The fall winds are beginning to blow into Victoria and the summer is coming to a close. With the outdoor parties and events winding down you might find yourself wondering what to do now that the season is beginning to change. Don't worry, because the end of summer does not mean the end of events and fun things to do with friends and family. In fact, these upcoming events are just getting started and will offer you a fresh experience in your local area.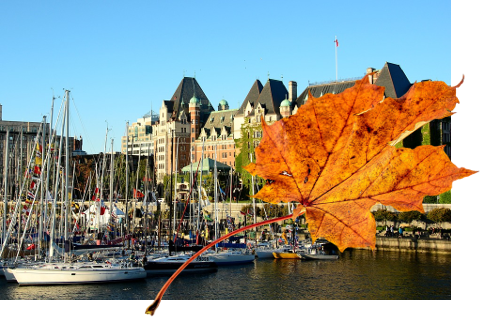 Victoria has plenty of events spread out across the fall season. These upcoming and exciting events have been organized into two separate categories below. Our Food and Drink category is for those looking to enjoy some of the fine Beer and Wine locally from the fall events. And our Outdoor Fun category is for those who are looking to get outside and get some fresh air this fall.
Come out and enjoy everything Victoria has to offer this fall. You might just find your new favorite activity.
Food and Drink
Great Canadian Beer festival (Sept 8th – 9th)
The Great Canadian Beer Festival is an award winning festival with a total of 66 breweries and 2 cideries attending this year. There will be craft beer tasting, local food vendors, and local buskers to entertain! This festival is intended to introduce beer lovers to new brews and to bring awareness of craft brewing in the local community and beyond.
Victoria Wine Festival ( Sept 22nd – 23rd )
Victoria's first exclusive international wine tasting festival is here. The Victoria Wine Festival is open to all levels of wine consumers. This event prides itself on presenting wine that is good value to the average consumer. With a welcoming and engaging experience the Victoria International Wine Festival will surly satisfy any wine lover.
Salt Spring Island Apple Festival ( Oct 1st )
"A chance to visit Apple Heaven while still on earth!" The Salt Spring Island Apple Festival is a great event for families, children and apple lovers of all ages to come together and enjoy what local Salt Spring Island apple farmers have to offer.
Art of the Cocktail Festival ( Oct 14th )
Join your friends and family for the Art of the Cocktail Festival. This is Vancouver Island's biggest Cocktail event of the year! This year the best dressed will win themselves four tickets to the 2018 Victoria Film Festival Opening Gala, so make sure to dress to impress!
Sea Cider Kick-Off ( Oct 18th )
Cideries from across Western Canada and the Pacific Northwest gather for the Sea Cider Kick-Off event. From innovative styles and products to more classic tastes, cider lovers won't want to miss this chance to come together and celebrate the incredible variety of ciders.
Outdoor Fun
Saanich Fair ( Sept 2nd – 4th )
The 149th Annual Saanich Fair has everything you could expect from a fair, cute fuzzy Sheep, Zucchini Races, Draft Horse competitions, and even a Disco! Don't forget all the rides that are available!
Vancouver Island Corn Maze ( Sept 8th opening )
The Vancouver Island Corn Maze is Victoria's largest family friendly corn maze, and it is back again this year to put your wits to the test! Can you solve this 14 acre corn maze with over 10km of trails? This is a great event for the whole family and includes a treasure hunt, a corn sandbox and kids maze.
Rifflandia (Sept 14th – 17th )
Celebrating its 10 year Anniversary this year, Rifflandia is Victoria's biggest music festival. Spanning multiple venues across the city, this musical experience turns the volume up to 11 and blasts chill vibes across all of the greater downtown core. Get ready for three days of non-stop music!
Roller Derby Season Finale ( Sept 16th )
Celebrating over 10 years as a local Victoria team, the Eves of Destruction skaters are ready to demonstrate guts and fight for glory! Come watch as the "Belles of the Brawl" fight it out with the "Margarita Villains" to regain the Calamity Cup! Enjoy this family friendly event with the evening's half-time entertainment and cold beer & cider.
Luxton Fall Fair (Sept 15th – 17th )
Supporting local history and showcasing local agriculture, the Luxton Fall Fair is filled with displays and exhibits showcasing everything Agriculture. From Blacksmithing and Antique Farm equipment to Handicrafts and Unique Products with dedicated booths, there is something for everyone here.
UrbaCity Challenge ( Sept 24th )
Come join the UrbanCity Challenge, a race through the heart of downtown, and discover a side of Victoria you've never seen. Local businesses and hot spots are the backdrop of this amazing challenge.
Victoria Festival of Authors (Sept 27th )
The 2nd Annual Victoria Festival of Authors hosts a fantastic lineup this year of local and national Authors. Come and celebrate the joy of reading with the fantastic lineup of guests, listen to readings from your favorite authors, and don't miss the Gala on Saturday night!
Cops for Cancer Tour de Rock ( Victoria: Thursday Oct 5th – 6th )
A two-week, 1,000km bike ride raising money to fight childhood cancer, Cops for Cancer Tour de Rock is the biggest community event on Vancouver Island that unifies communities from Victoria to Port Alice. Come out to support these officers who are working hard to raise money for pediatric cancer research and support programs.
Goodlife Fitness Victoria Marathon ( Oct 8th )
The Goodlife Fitness Victoria Marathon is one of the largest annual sporting events on Vancouver Island. Held on Thanksgiving weekend. This Marathon brings the community together and challenges runners to compete at their very best. With over 1600+ volunteers helping to organize it, you know it's going to be big!
Goldstream Salmon Spawn (Mid-late October)
Every year thousands of chum salmon return to Goldstream Provincial Park. These salmon forge their way up the streams of the Pacific Northwest to spawn. This is a great educational event that often begins around mid-October and can sometimes last up to 9 weeks, giving you plenty of time to visit this spectacle!
Ghostly walks – (Sept 11th – Dec 31st)
For over 40 years, John Adams' Ghostly walks has brought his passion for Victoria's stories to the streets, bringing them to life as you walk with him learning the gruesome history of our local neighborhood. Come explore the streets at night, but don't forget your flashlight!
Fall in Victoria is Magical
The changing weather in our beautiful city is a delightful sight that makes it a magical time to see Victoria! If you were looking for a quieter time to see the culture of the city/take photos, without wading through tourists, our fall season is an excellent time to come visit.
Don't forget, this is a west coast island city, with lots of precipitation, so you may want to bring a jacket/umbrella with you so that no adventure is off limits while you are here!