The municipality of Oak Bay is a largely residential neighbourhood with plenty of oceanfront homes and beaches. Architecture buffs will be amazed at the variety of beautiful homes, and horticulture enthusiasts will swoon when they see the carefully tended gardens. Sharing a border with both downtown Victoria and the municipality of Saanich, Oak Bay is also accessible and very conveniently located.
Often considered the Capital Regional District's most desirable municipality, Oak Bay is a prime location for those who want to live in a quiet luxurious community with access to activities and amenities. There are excellent schools both public and private, and recreational opportunities for all ages – from children to seniors. There are few better places to live than beautiful Oak Bay.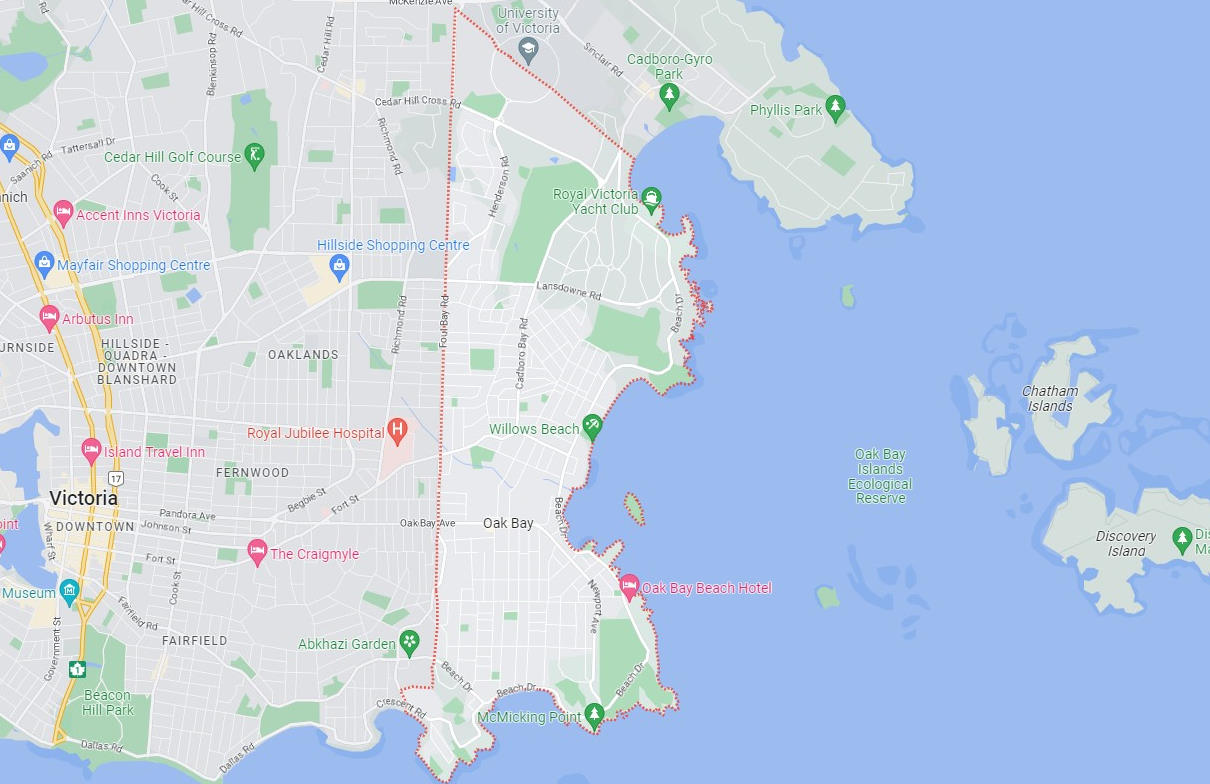 Despite being mostly residential, Oak Bay's commercial core along Oak Bay Avenue is always bustling. There you'll find pubs, bakeries, local shops, restaurants and more. There's also the Victoria-favourite Oak Bay Beach Hotel, Oak Bay Recreation Centre and several sports fields.
If you enjoy the outdoors, you won't be disappointed in Oak Bay. The municipality has some of the most stunning ocean views the CRD has to offer, whether from the homes on Beach Drive, the oceanfront Victoria Golf Club, Willows Beach or Cattle Point at Uplands Park.
Oak Bay by the Numbers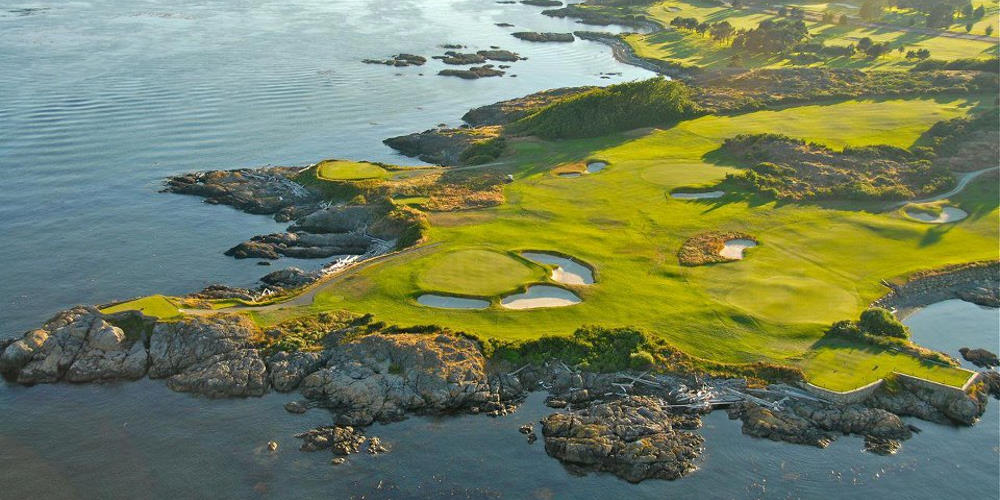 The population in 2021 was 17,990, making it the 5th largest municipality in Victoria

Total population sunk -0.6% from 2016-2021

With 10.52 square km, the population density is 1,710 per square km
34% of the population is age 65 or over, making it one of the older municipalities
Of the 7,805 total private dwellings, 4,915 are single-detached houses and 1,735 are apartments under 5 stories
In 2020, the median total income was $52,400
Neighbourhoods of Oak Bay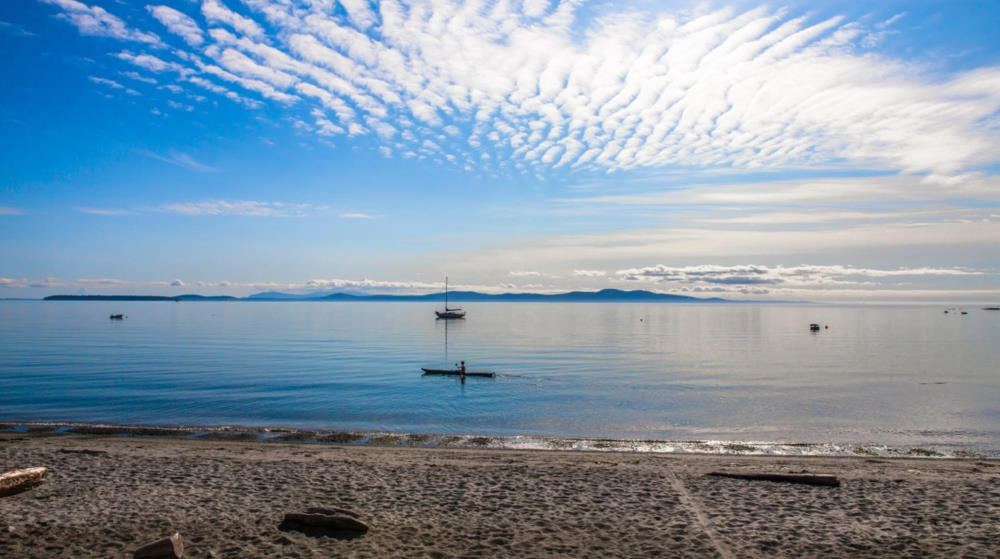 Photo credit to DesitinationGreaterVictoria.com 
Beach Drive stretches down the coast all the way from the top of the municipality to the bottom, and boasts some of the most beautiful and expensive real estate on Vancouver Island. Because of it's natural beauty, stunning oceanfront homes and proximity to town, Oak Bay has and always will be one of the most desirable municipalities to live in (if not the most).
Rightfully so, Oak Bay is also home to some of the most desirable neighbourhoods in Victoria, including:
Gonzales
Uplands
Willows Beach
Windsor Park
North Oak Bay
Estevan
Schools in Oak Bay
Being a rather affluent residential neighbourhood, Oak Bay has plenty of schools within the municipality. At the very top of the municipality is the University of Victoria – Vancouver Island's largest and most esteemed university.
For younger children, there are a handful of great options for schools including Margaret Jenkins Elementary, Williams Elementary and Frank Hobbs Elementary. For middle school-aged kids there's Monterey Middle School and Lansdown Middle School one block away. Oak Bay is also home to Oak Bay High School for older children.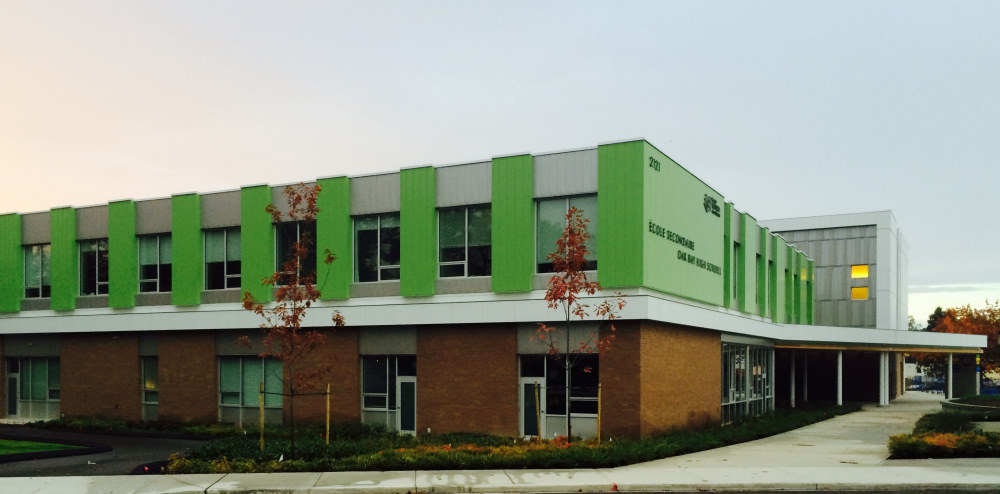 On top of public school, Oak Bay is home to a few private schools. St. Michael's University School and Glenlyon Norfolk School offer education for kids grade K through 12. There's also St Christopher's Montessori for young children.
Oak By Links