The Quadra/Hillside area is a largely residential neighbourhood nestled next to the Patricia Bay Highway running into downtown Victoria. This Saanich neighbourhood is located between the Burnside and Oaklands neighbourhoods, and just north of trendy North Park. Quadra/Hillside is an extremely central place to live. Not only is downtown just minutes away, but Uptown Shopping Centre, Hillside Mall and Mayfair Mall (Victoria's 3 big malls), are located just minutes away in the other direction. Plus being in Saanich, there are plenty of options for recreation, schools and sports within the vicinity.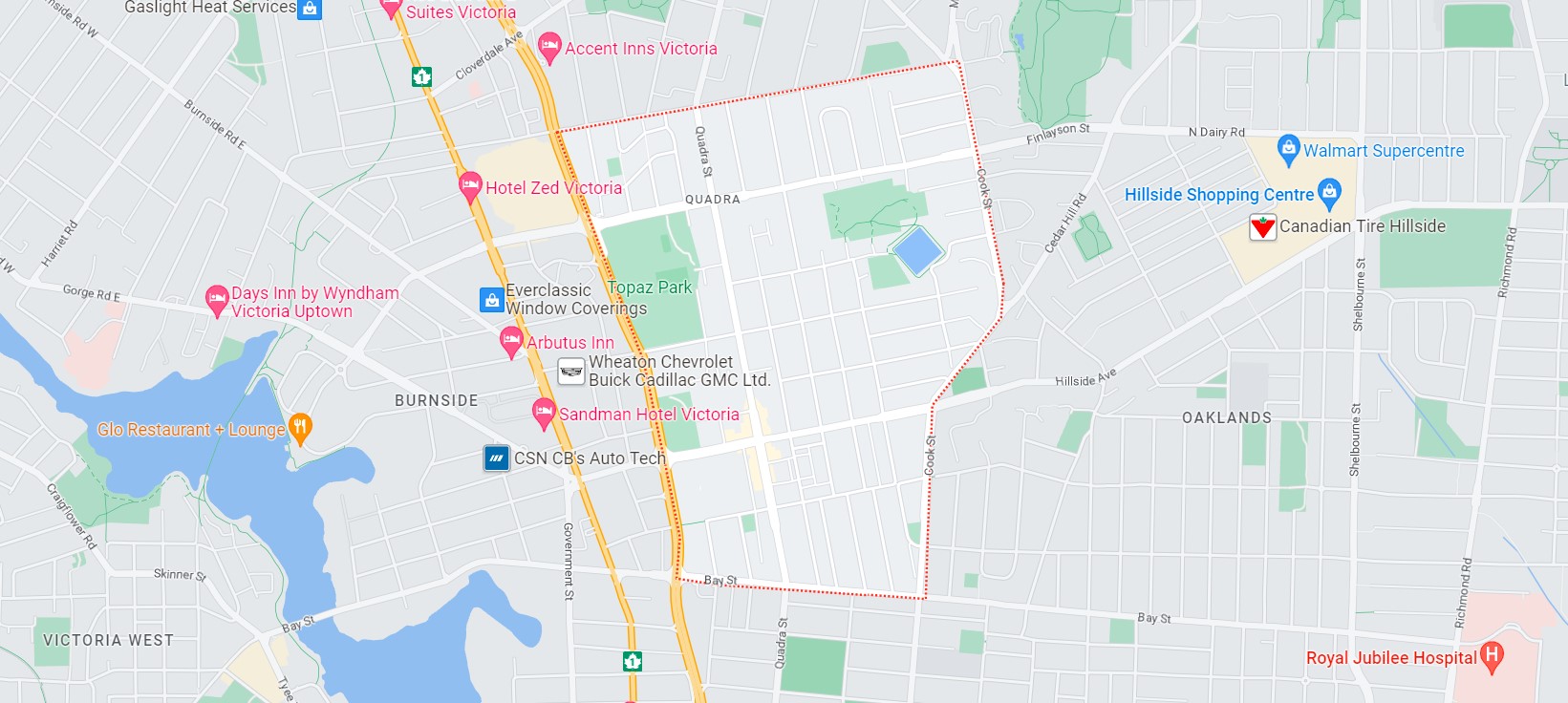 Being a neighbourhood of mostly residential streets, the Quadra/Hillside is home to some generous park space. Inside the neighbourhood you'll find Topaz Park, a spacious park with four sports fields, brand new skate park, a dog park and a playground, and Summit Park, a dog-friendly park full of wildflowers and trails. Plus, just outside the neighbourhood a walking distance away you'll find Royal Athletic Park, Central Park and Cedar Hill Golf Course.
Aside from the three large shopping malls about 2 minutes away, the neighbourhood has a small commercial area of its own called Quadra Village. Here you'll find everything you could need, from restaurants to coffee shops, a liquor store and grocery store, a great bar and a lineup of boutique shops.
Things to do in Quadra/Hillside
Get coffee in Quadra village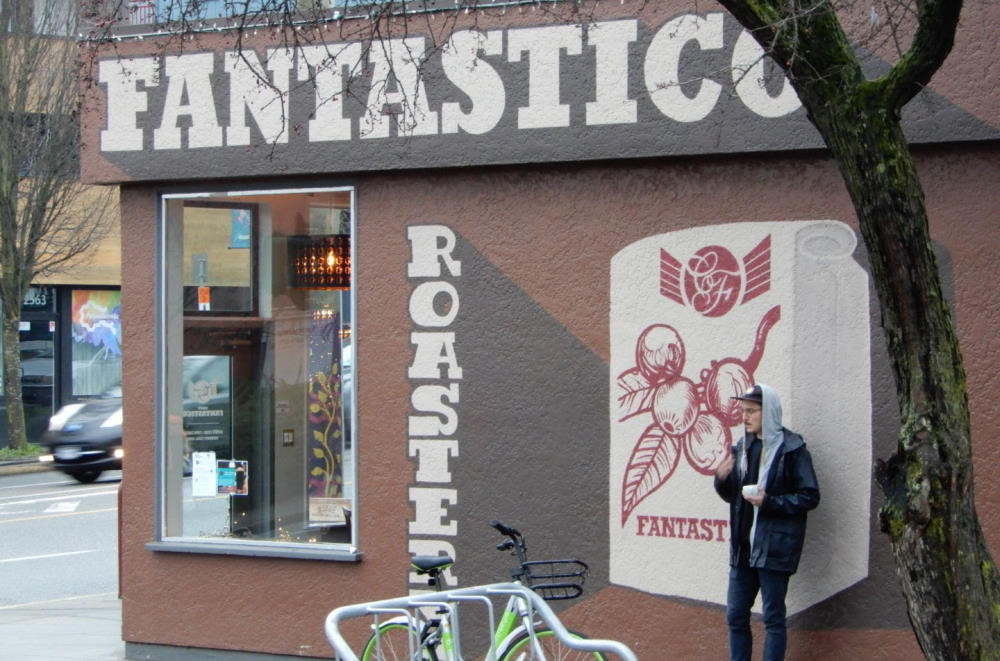 Photo credit to Sidewalking Victoria
Quadra Village is a cute little walkable shopping centre with plenty of shops surrounded by residential streets. There's also some great coffee in the area. There's a Caffe Fantastico location – a family-run, locally owned chain that roasts their coffee on site at the corner of Quadra and Kings Road. There's also Bubby Rose's Roastery & Bakery across the street, with plenty of baked goods, sandwiches and soups.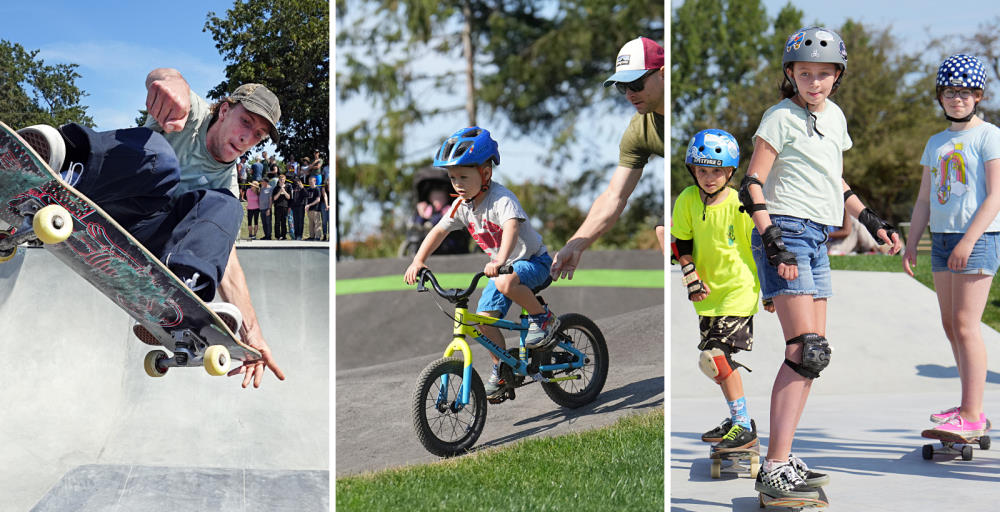 Photo credit to City of Victoria
The Quadra/Hillside neighbourhood is a friendly one for dog owners, with a solid selection of sizable parks. Topaz Park and Summit Park are the largest dog-friendly parks, plus there are a collection of sports fields and smaller parks throughout the neighbourhood. If you can skate or bike, be sure to check out the brand new skate park at Topaz – it's the largest in the city!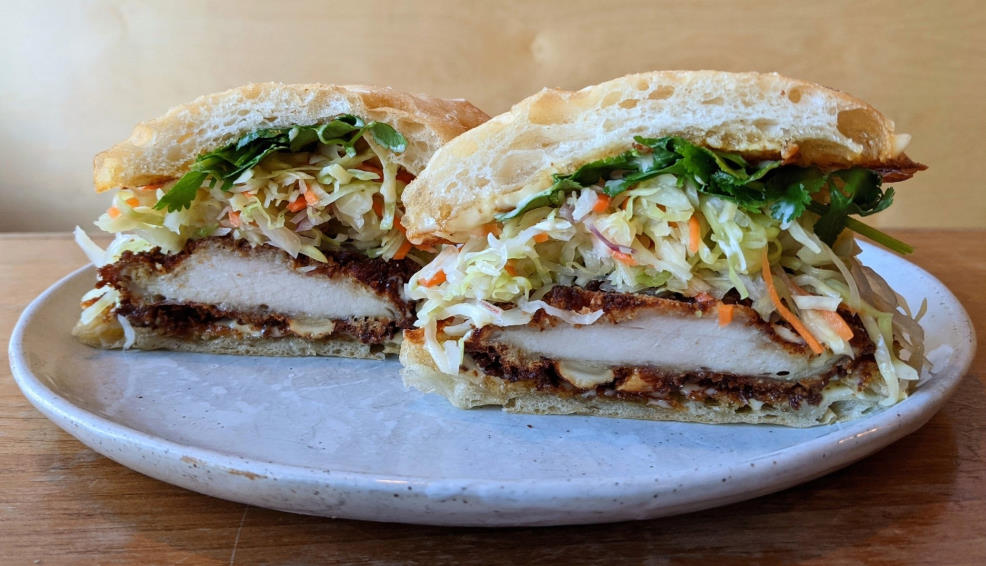 Part and Parcel might be the most esteemed restaurant in the Quadra/Hillside neighbourhood. This hip joint located in the heart of Quadra Village serves small plates, salads and sandwiches sourced with local ingredients. You can reserve a table in advance or place an order for takeout online. They even do happy hour! Browse the Part and Parcel menu here.
Schools Around Quadra/Hillside
The Quadra/Hillside neighbourhood is an excellent one if you have children. It's central location means there are plenty of schools accessible by a short bus ride or drive, as well as many extra curricular activities and sports. The neighbourhood also has two schools of its own: Quadra Elementary and Victoria High School.
For more schooling options, students don't have to go far. Oaklands Elementary and George Jay Elementary are walking distance from the neighbourhood. Then, in just a short drive, you'll reach schools like Lansdowne Middle School, St. Michael's University School, Tillicum Elementary, and many more.