Central Saanich sits on the Saanich Peninsula between Saanich and North Saanich, a picturesque rural community anchored by two villages – Brentwood Bay and Saanichton, and a large business park in the Keating X Road area. Victoria is a quick trip by car or bus down the Pat Bay Highway, and the Victoria International Airport and Swartz Bay Ferry Terminal are nearby. This steadily growing municipality (pop. 16,700 in 2009) offers a wonderful blend of rural atmosphere with urban amenities.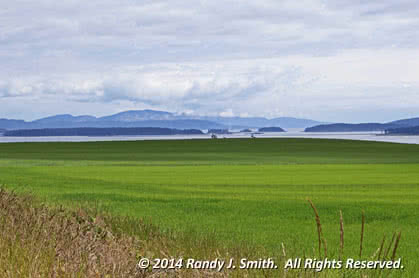 The village of Brentwood Bay perches on the west side of the peninsula, overlooking the Saanich Inlet. There is a small ferry that runs from Brentwood Bay across the inlet to Mill Bay, and this 25 minute cruise presents a shortcut to bypass Victoria and the Malahat if you're travelling north on Vancouver Island.
Saanichton is found just west of the Pat Bay Highway (Hwy 17) at the junction of Mt Newton Cross Rd and East Saanich Rd. A friendly community with that small town vibe, Saanichton is home to the Saanich Peninsula Hospital and the historic Prairie Inn.
South of these two villages lies the largest business park in the region, the Keating X Rd business centre. The business activities here are varied, and include tourism, agriculture, technology, retail and light industry.
If you are considering moving to Victoria , you can learn more about the neighbourhoods of Central Saanich here.
The remainder of the municipality is comprised of two first nations reserves, hobby farms, country residences and a lot of agricultural land. The local farms are a bonus for residents who benefit from a great supply of locally grown produce. There are also many highly prized waterfront and waterview properties on both the east and west coasts of Central Saanich.
Policing is provided by the Central Saanich Police Force, and there is a volunteer based Fire Dept. The Capital Regional District (CRD) provides emergency 911 services.
The municipality provides water and sewer to most homes in and around the urban centres but rural properties commonly rely on wells and septic fields. Water quality is generally excellent and supply reliable, but definitely something you should examine if you are purchasing a country home! Another thing potential residents of Central Saanich should be aware of is the necessity of arranging garbage pickup – the municipality doesn't provide this service so you'll have to contract a private company. There is a recyclable pickup program organized by the CRD, see their website for details about schedules and acceptable materials.
The world famous Butchart Gardens is located just outside Brentwood Bay, in a worked out limestone quarry right on the Saanich Inlet. In 1904, Jennie Butchart the wife of quarry owner, R.P.Butchart, decided that she needed to repair the damage wrought by years of industry, so she set out to create a garden within the quarry. Her initial efforts resulted in the beautiful sunken gardens you'll find today. The gardens now encompass over 50 acres of themed gardens, including the Japanese Garden, Sunken Gardens, the Rose Walk and the Italian Garden, as well as heated show greenhouses, restaurants, and many other things to see and do. Displays are renewed for each season, so there is always something new to see.
Labour Day weekend is when the Saanich Fair takes place; this historic agricultural fair has been running for the past 143 years! As well as the obligatory midway, games of chance and cotton candy, this fair offers a full slate of competitions that showcase the best of country life. There are all manner of farm creatures to view, equestrian shows, and 4-H exhibits. There is judging of produce, flowers, baked goods, crafts and artwork. Truly an old-fashioned farm fair!
You may also choose to visit:
The Victoria Butterfly Gardens;
Heritage Acres, the Saanich Historial Artifacts Society;
The Saanich Pioneers' Museum and,
Central Saanich is home to numerous beautiful parks like:
Island View Beach Regional Park;
The Lochside Regional Trail;
Centennial Park;
John Dean Provincial Park, and
Gowlland-Tod Provincial Park.
Central Saanich residents enjoy local celebrations including:
Brentwood Bay Festival held in early June;
Music –in-the-Park Wednesday evenings in July and August at Pioneer Park in Brentwood Bay;
Central Saanich Days runs the first weekend in August at Centennial Park near Saanichton and,
The aforementioned Saanich Fair, an old-fashioned agricultural fair held each Labour Day weekend.
The municipality is proud to recognize its heritage, and at this time there are 11 recognized heritage sites, many of which are open for the public to tour. Central Saanich endeavours to balance the preservation of historically significant sites while promoting steady progress. This delivers on a promise of a community offering rural splendour as well as urban niceties. It's a great place to live!