James Bay is a charming seaside neighbourhood within the City of Victoria, BC.  Surrounded on three sides by water, James Bay is really a peninsula, named for one of Fort Victoria's founders, Sir James Douglas. If you head north you'll be in downtown Victoria, and the Fairfield neighbourhood flanks the east side of James Bay. Esquimalt is just across the water to the west.
Richly historical, James Bay is home to the BC Parliament Buildings, the Royal BC Museum, Beacon Hill Park and Mile 0 of the Trans-Canada Highway. Beyond the Legislative buildings, museum and hotels clustered around the inner harbour side of James Bay, you'll find a residential neighbourhood full of beautiful historical houses including Emily Carr House, where the famous artist and author grew up. The character homes lining leafy streets, combined with its proximity to the beach and downtown Victoria make James Bay one of Victoria's most desirable (and expensive) neighbourhoods.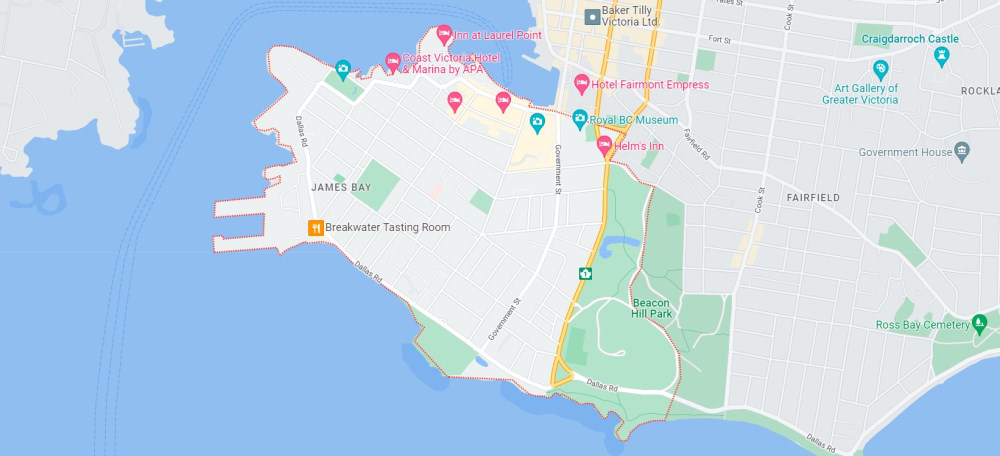 Things to do in James Bay
To the west lies Ogden point with its deep water port where cruise ships are welcomed to Victoria, and one of our favourite Victoria strolls – the Ogden Point Breakwater. If having the ocean on both sides makes you nervous, head east down Dallas Road from Ogden Point, the views are just as good and your feet remain on terra firma! The Breakwater Tasting Room is also right there, serving up craft beer, food and ocean views.

Photo credit to Greater Victoria Harbour Authority
Fisherman's Wharf is a floating pier packed with colourful houseboats, restaurants and shops. A favourite among tourists and locals, Fisherman's Wharf get busy in the summertime. Visitors can see the seals hanging out looking for food scraps, and walk along the boardwalk to get an ice cream, a glass of wine, or some fish & chips.
Check out the Parliament Buildings

Located right in the centre of Victoria's Inner Harbour, the Parliament Buildings are the city's most significant landmark and one of the busiest photo spots for tourists. With Victoria being the capital city of British Columbia, the province's Legislative Assembly is held in this old beautiful building. Tours are available at select hours.
Staying in James Bay
If you're visiting Victoria, and are looking to stay near town, James Bay is the perfect option. Downtown Victoria is within walking distance, as well as the beach and most of the city's tourist attractions. Being in such a great location, James Bay is home to the city's busiest hotel district.

Pictured: Laurel Point Inn
Here are some of our favourites:
Schools in James Bay
James Bay is home to two elementary schools for young children, making it a great community for families – James Bay Community School and South Park Family School. For more options, you can head east into the Fairfield community to Sir Jams Douglas Elementary or even further east to Margaret Jenkins Elementary. For more selection, head up to Fernwood or Oak Bay.
For older kids, the closes options would be Oak Bay High, Glenlyon Norfolk, St. Michael's University School or Victoria High School, all of which can be reached in under 15 minutes.
James Bay Links
James Bay has long had an active neighbourhood association, the present iteration is a non-profit society – the James Bay Neighbourhood Association, registered in 1993.  The JBNA works to maintain a safe community, address land use issues, develop community services and generally make James Bay a better place in which to live.