Municipality of Victoria: Neighbourhoods, Schools & More

The municipality of Victoria is one of Greater Victoria's 13 municipalities, comprised of the lively cultural and commercial hub of the downtown core, tourist attractions and several residential neighbourhoods. As the capital of British Columbia, the municipality is also home to dozens of government buildings.
Victoria has the reputation of being an extremely desirable place to live when compared with other small cities across the country and even the world. Worldsbestcities.com ranked Victoria as the #1 small city in Canada due to its natural amenities, economic opportunities and thriving food and beverage industry. In 2021, the global media company Monocle also ranked Victoria #5 in their small cities index behind cities in Europe and Japan, citing a growing network of bicycle lanes, natural beauty and vibrant economy.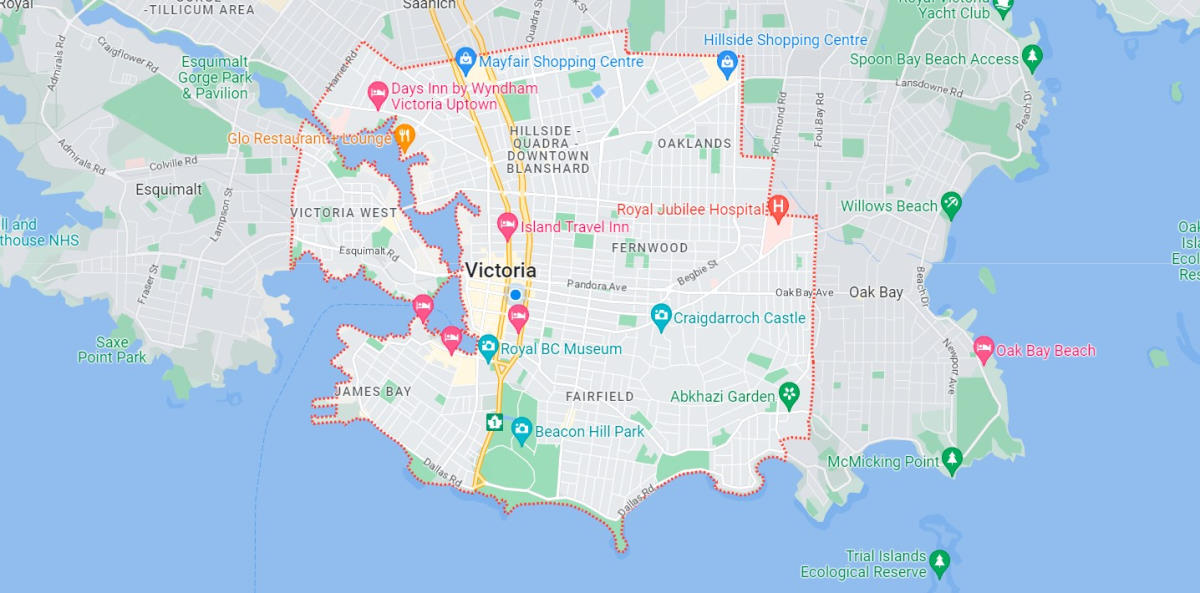 As the second most populous municipality in Greater Victoria behind only Saanich (the residential hub), there are plenty of people living and working in Victoria. In the downtown core, you'll never run out of things to do and places to go – especially when finding somewhere to eat. In 2021, Victoria had more restaurants per capita than any other city in Canada. Along with the big supply of restaurants, there are seemingly endless numbers of cocktail bars, coffee shops, pubs, dessert shops and breweries.
Victoria's ideal climate is another big reason people love it here so much. The winters are mild, with typically just a few days a snow per season. Fall and Spring are a bit wet but not cold, and Summer is beautiful, with temperatures that don't stray over 30 degrees Celsius too often. Not only is this climate among the best in Canada, it's also ideal for flowers. Decades ago, Victoria earned the nickname of 'The Garden City', with a staggering 27,875,292,158 blooms counted in 2022.
Attracting millions of visitors every year, Victoria is the main tourist destination of Vancouver Island and one of the biggest destinations in the country. The municipality of Victoria sees the bulk of those tourists, home to the majority of cultural attractions, hotels and more. The Inner Harbour is the focal point, flanked by the Empress Hotel, BC Museum and BC Parliament Buildings. You'll also find dozens of hotels with ocean views along Victoria's harbour.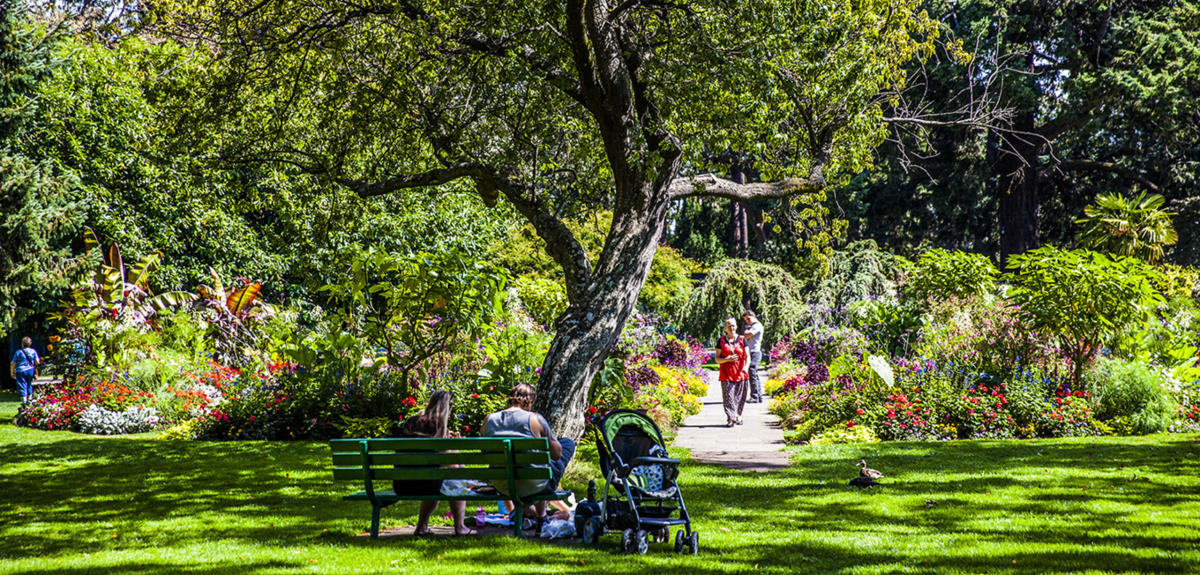 Photo credit to Tourism Victoria
Victoria by the Numbers
Victoria's population in 2021 was 91,867, making it the second most populous municipality

The population grew 7.1% from 2016 to 2021

Population density is 4,722 per square km – the highest in Greater Victoria
Average age is 45 and median age is 42
Of the 49,225 total private dwellings, 34,500 are apartments and 6,600 are single-detached houses
The 2020 median total income (age 15+) was $43,200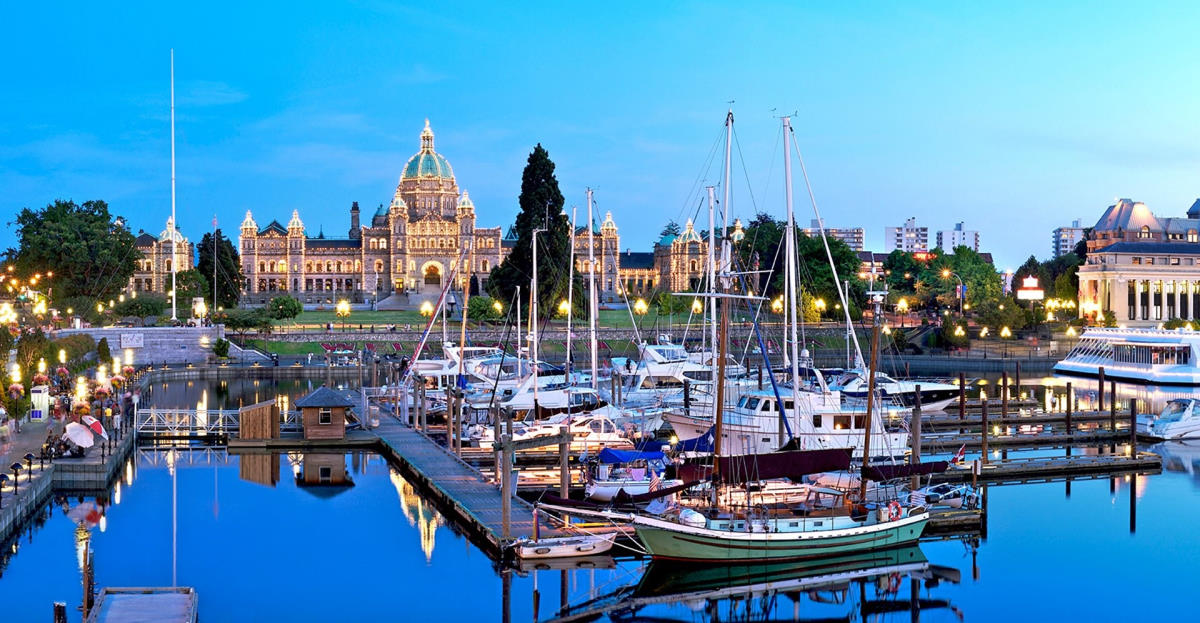 Photo credit to City of Victoria
Neighbourhoods of Victoria
Being a dense municipality with plenty of people working and living inside it, Victoria is broken up into several distinct neighbourhoods. Many of these neighbourhoods can be broken down into even smaller neighbourhoods, but some of the most significant ones are linked to their own pages detailing things to do, schools and more.
Burnside
Rock Bay
Chinatown
Cook Street Village
Gonzales
Harris Green
Hillside
Blanshard
Quadra Village
Mayfair
Jubilee
Rockland
Schools in Victoria
The municipality of Victoria is home to dozens of elementary schools for kids and parents to choose from. No matter where you live in the district, there's sure to be something nearby – likely even walking distance away. There's at least one school in James Bay, Fairfield, Vic West, and all the main neighbourhoods.
However for older children, the choices are a little thin. Most of the highschools are outside of town, so students living in suburban neighbourhoods don't have to commute all the way into town. But if you're living in the municipality of Victoria, Victoria High School is located very centrally between North Park, Rockland and Oaklands areas. There are also more options for highschools a short drive away in neighbouring Oak Bay, Saanich and Esquimalt.
Victoria Links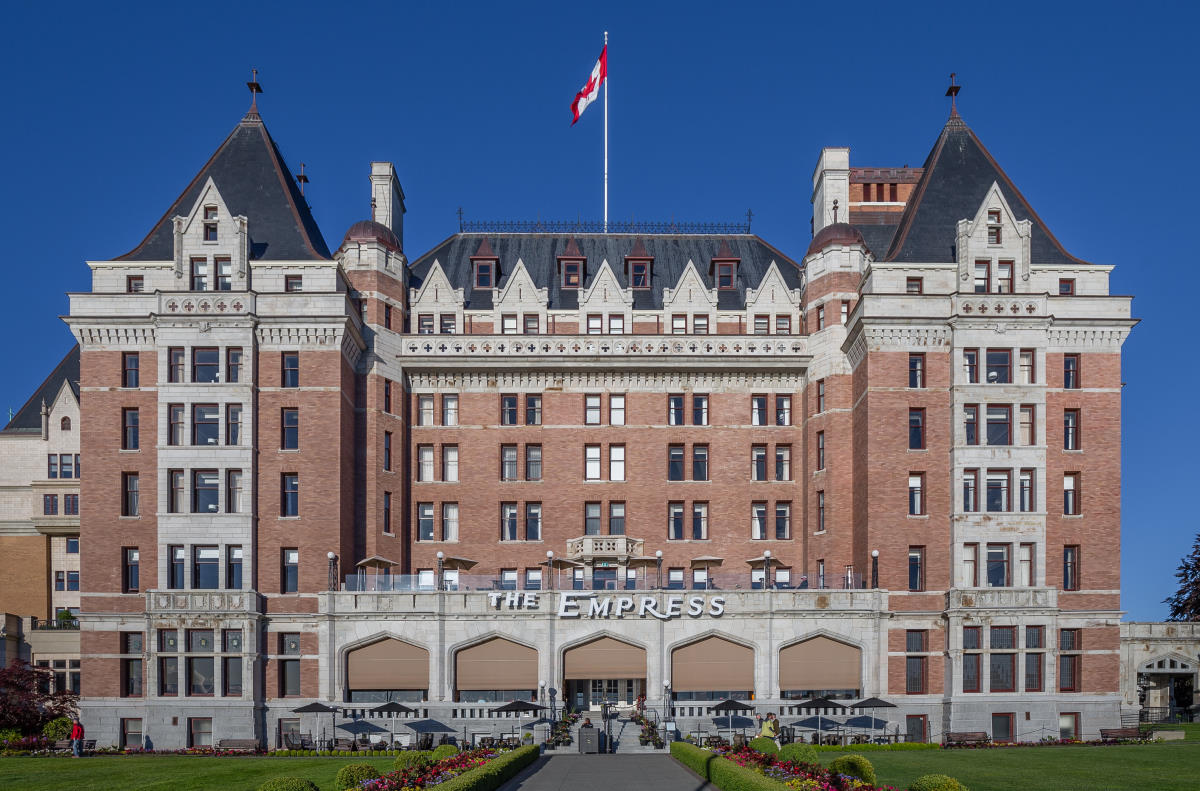 https://livinginvictoriabc.com/wp-content/uploads/2023/03/downtown.jpg
777
1200
Caorda Staff
https://livinginvictoriabc.com/wp-content/uploads/2017/05/logo-transparent.png
Caorda Staff
2023-03-31 10:57:16
2023-03-31 10:57:16
Municipality of Victoria: Neighbourhoods, Schools & More