A few years ago (time flies!) we put out a nice little post on the East Saanich Neighborhood of Cordova Bay.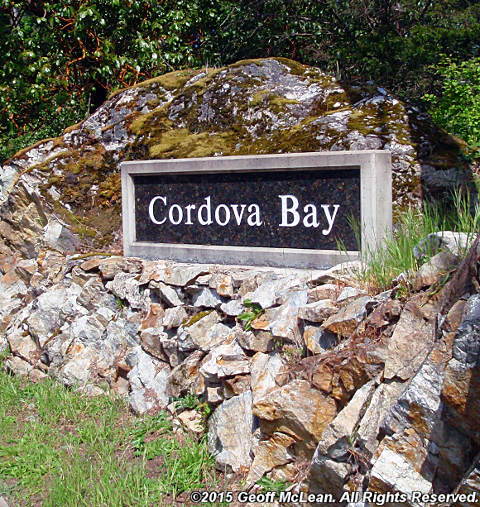 This is a historic community with a lot of retirement activities that neither needs major changes nor seeks to reinvent itself. It's a very close knit residential community that is flush with groups and organizations caring for each other and the surrounding areas.
Perhaps one of the best views of Cordova Bay is from the top of Mt.Doug Park where panoramic images are very tempting: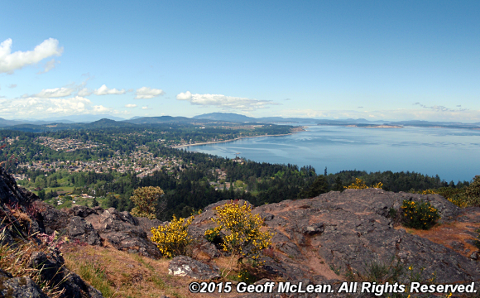 While the image we used here is watermarked we really appreciate readers who engage and read our content so here's a wallpaper size and a full-size version you can have without the watermark. Shh! Don't tell the boss!
Cordova Bay gets along very well without a ton of updates and new additions but there's still some winds of change in the sweet ocean breeze passing around this quaint neighborhood.
When a property is for sale in Cordova Bay it's a delight because it's almost certainly a high-value home, usually historic, that will almost sell itself based on location alone. Property listings in the area, like this one that's currently for sale at 4755 Cordova Bay Rd., don't linger for very long even with an appropriate luxury home price.
In fact the Victoria neighborhoods of Cordova Bay and Gordon Head were both recently highlighted as favored locations for international luxury property buyers this month by Mary Griffin.
Access and Amenities
Local markets offer fresh local vegetables, fruit, herbs, dairy, meat, and more! Even with the ocean breeze we can get some nice hot summers and taking a stroll through the markets is an excellent way to enjoy some shade while picking up some local goods.
The city of Victoria is just minutes away by car and the #32 bus runs through the the area regularly ensuring quick access to the city and other Vancouver Island destinations.
As we mentioned in our last post the area is popular with golfers and has 3 courses in the area that all have impressive features including a weather station right on one of the greens that is connected to The Weather Network.
The 90 year old McMorran's restaurant was recently saved from potential disrepair by a local business woman, Kate Phoenix. This Cordova Bay landmark was famous for dinner, dancing, and live music that made it crucial to the community that grew up as patrons of the restaurant. Re-opened as the The Beach House Restaurant the establishment had some details carried over from the original building but until this month wasn't allowed to have dancing. That's changed now with a successful application for the allowance of dancing or "patron participation". Cordova Bay residents should be able to once again enjoy dancing at this wonderful venue soon!
Buying a home in Cordova Bay
This historic area is a real estate gem and recent exposure to international markets will only drive that value higher. Buyers looking to purchase waterfront properties in Victoria should speak with a qualified real estate agent that knows the local bylaws, zoning, and can tackle all the tough questions that can come up when buying a home.
In Victoria there's few people that have more experience, and proven results than the realty team at Geoff McLean and Associates. You can either read about buying a house online or contact them to speak to their professional real estate team.