Part 2:  Fresh Water Recreation
If you prefer fresh water; lakes, rivers and creeks abound in the Greater Victoria area, many of which offer (warmer than the chuck) swimming, fishing, or canoe and kayak adventures.  Within a short drive of the city of Victoria you'll find:
Swan Lake Christmas Hill Nature Sanctuary – This beautiful park is very close to the city, and offers an extensive trail system which includes a spectacular floating boardwalk across part of the lake.  There is no fishing or boating allowed here but it's an excellent location for bird or wildlife watching.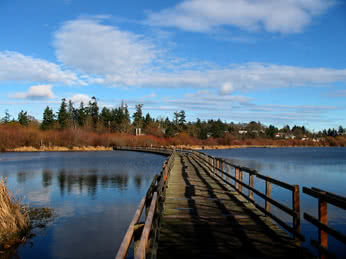 Elk/Beaver Lake Regional Park – Just a few minutes from Victoria on the Pat Bay Highway you'll find this large two lake system where you can go swimming, canoing and fishing (it's stocked with rainbow trout!), as well as enjoying walking and equestrian trails through forest, field and wetlands.  On any given day you'll find windsurfers, small sailboats and rowers on the water.  Elk Lake is home to University of Victoria Vikes Rowing, and these intrepid athletes are out training year round in all sorts of weather.
Prospect Lake– is a tiny jewel of a lake not far from Elk/Beaver Lakes that boasts some excellent fishing for Rainbow Trout, Cutthroat Trout and Smallmouth Bass.
Colquitz River Park – is more a large creek than a river, once a prolific trout bearing waterway, it's now closed to fishing.  There are walking trails along the gently sloping banks of the river.
Durrance, Fork and Pease Lakes – found within Mt Work Regional Park offer both swimming and fishing  Of these three small lakes, Durrance is the easiest to access.
Thetis Lake Regional Park – contains an extensive lake system featuring excellent swimming, canoeing and fishing for Trout.
Matheson Lake Regional Park – in Metchosin is a great place for a cool dip on a hot summer day.  Also, the lake is stocked with catchable Rainbow Trout.
The Sooke Potholes – along the Sooke River are another favourite swimming hole for locals.  The Sooke River supports cutthroat trout and fall runs of chinook and coho salmon. Flyfishing for chum salmon is excellent in the estuary and lower reaches of the Sooke River.
All of these fresh water outdoor recreation sites are found within a short drive of downtown Victoria, and there are many others not mentioned.  So, you can see that outdoor activities on the water, whether it's fresh water or salt, are easy to find for people who are living in Victoria.