Victoria BC is well known for having a largely female population, we recently mentioned that Victoria took the #1 spot nationwide for the title of 'Best City in Canada for Women'.
Female Canadian Veterans
While we identify with women living in Victoria, when it comes to Canadian veterans, even in this city, the stereotype is very male when in reality many women have served our country in the Canadian Armed Forces.
Looking back in Canadian Military history it's notable that the first women to vote in a Canadian federal election, back in 1917, were the "Nursing Sisters" who were also nicknamed 'bluebirds'. One of the oldest Canadian taxi companies in Canada, BlueBird Cabs Ltd. (taxicab.com), was founded in Victoria BC in the 1940s and could easily be a nod to women veterans.
Canadian Women in the First World War
The bluebirds served in the First World War (1914-1918) which saw 3,141 women serving as nurses and over 2,500 Canadian women went overseas to support hospitals and medical units. Of these women at least 40 lost their lives while serving their country, most of which died in direct conflict with enemy soldiers during WWI.
The war efforts had a huge impact on women living in Canada due in large part to the shortage of male workers. Women found themselves taking on non-traditional gender biased roles like working in factories, offices, and farms.
World War Two and Canadian Soldiers
While officially limited to non-combat roles there were over 50,000 Canadian women enlisted in military service during the second World War. 4,480 women were part of the Nursing Sisters in WWII with the remainder mostly serving in the Army (21,000) or the Air Force (17,000). It wasn't until 1942 that the Navy created the WRENS division (Women's Royal Canadian Naval Service) in which over 7,000 women served.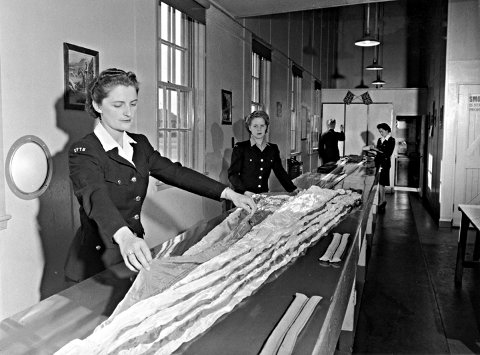 Duties for female officers were varied and included many support services that were crucial to the war effort such as packing parachutes, operating radio/wireless terminals, taking photos, working as clerks, and many other miscellaneous roles.
Similar to WWI, the war effort in the Second World War had a notable impact on genders in the domestic workplace. Women found themselves working in many traditionally 'male' roles such as science, shipbuilding, munitions, and even forestry.
Women working in the forest industry were nicknamed 'lumberjills' and they carried out all the same 'lumberjack' tasks such as falling, skidding, and burling.
The Korean War
Over 5,000 women joined the Canadian Military in the 3 years from 1950-1953 during which Korea was at war. Although this war was gruesome, with outbreaks of infectious disease, there were no female casualties reported.
In this war the Nursing Sisters played a key role as attendants for air evacuation and providing initial health/mental care to freshly released Canadian POWs.
Modern Wars
Over time Canadian military leaders have recognized the value of women in the military and by the 1970s most branches of military were moving towards equal opportunities for both genders.
Still it wasn't until the year 2000 that the Canadian Navy officially allowed women to serve in submarines, a role that would have historically been a serious concern for someone of the opposite sex.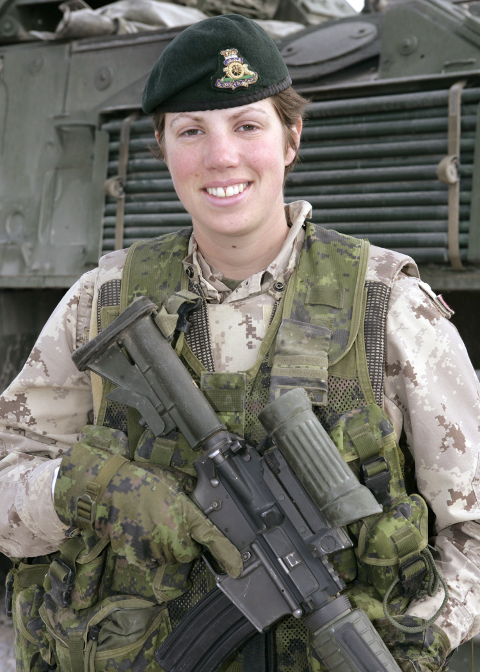 In fact the first female Canadian soldier to be killed in combat duty was Captain Nichola Goddard on May 17th 2006 while fighting in Afghanistan.
By 2011 female soldiers represented over 15% of the personnel in the Canadian Armed Forces! The ratio of female to male soldiers continues to become more neutral as opinions change and gender biases are forgotten.
Behind Every Great Soldier..
Even the women who didn't serve in the wars still played a crucial part by volunteering to make warm clothing such as socks and gloves, that were then sent overseas to soldiers fighting on the front lines.
Male veterans might understand the role that women played during wartime but as a member of the general public I think we could easily do more to recognize the contributions of Canadian Female Veterans.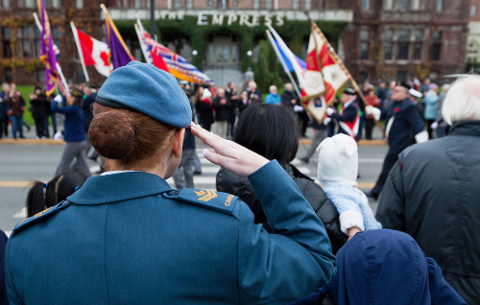 Tomorrow the city of Victoria will be gathering in memory of those that have fallen and served in defense of our country. I know that I will be keeping an eye out for female officers but I will no longer be greeting them with a look of surprise/curiosity, I will smile with respect as I now fully understand the contributions they have made to the defence of our country, freedoms, gender equality, and our history.