Local residents, especially folks that have been living in Victoria for several years, tend to find little joy at visitors referring to Vancouver Island incorrectly.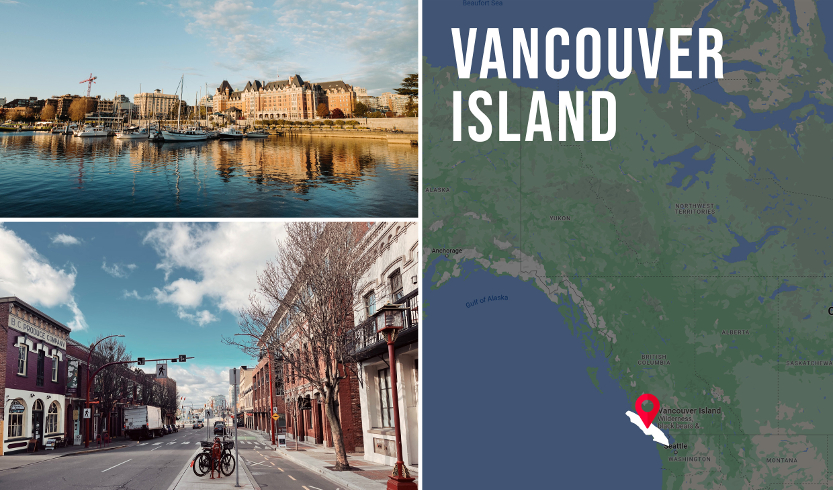 Unfortunately search engines like to make a lot of assumptions, so if you search for 'Victoria Island' it is no surprise that you can get results for 'Vancouver Island' instead of the real 'Victoria Island' or 'Kitlineq' as it is called by the local Inuit people.
Apparently the charm of island living must make people soft and/or generous? As much as it irks us, here we are, willing to talk about the Victoria Island confusion. Who knows, perhaps we can reach people interested in moving to Victoria, and prevent some confusion regarding the name of this beautiful island?
History of Vancouver Island
A home to many indigenous peoples from several distinct groups for thousands of years, the Spanish didn't explore Vancouver Island until 1774, and the British didn't establish a land claim until 4 years later, in 1778.
The first building on the island was a fur trade outpost built near the entrance to Nootka Sound in 1788, which was built by John Meares who came to the area two years prior.
Land Claim Disputes
With both the Spanish and the British laying claim to the island conflict became inevitable. By making concessions to Spanish explorers in South America a series of agreements were made to avoid the conflict over land claims escalating towards war.
British naval captain, George Vancouver was sent to Nootka Sound to negotiate with Juan Francisco de la Bodega y Quadra in 1792.
While these meetings were initially unproductive, the calm and friendly manner in which they were conducted lead to the suggestion by Captain Vancouver, that the island in dispute be given a name reflecting the efforts of the two captains, leading to the initial name being, "Quadra and Vancouver Island".
The name of the island was actually set in motion before the entire island had been properly circumnavigated, and what was intended as small gesture to honor the Captains turned out to be a sizeable amount of land, making the naming a far larger gesture than what the Captains had intended.
Naming Vancouver Island
The dwindling presence of Spanish efforts around the northwest brought about a habit of referring to the area as "Vancouver's Island", dropping any mention of 'Quadra', especially in correspondence with the Hudson's Bay Company.
In 1849 the 'Colony of Vancouver Island' gave our island a more official title, and for the next 36 years nearly any reference to 'Vancouver' as a location would have been presumed to refer to 'Vancouver Island', as the city of Vancouver did not exist until 1885.
Eventually, in 1866 the 'Colony of British Columbia' which had be established in 1858, entered into a union with the 'Colony of Vancouver Island', and the two colonies eventually became the province of 'British Columbia' in 1867 during the Canadian Confederation.
Size of Vancouver Island
According to the Wikipedia entry for Vancouver Island, our lovely island is the largest island on the west coast of North America.
Vancouver Island is 456 km (283 mi) in length, 100 km (62 mi) in width at its widest point, and 32,134 km2 (12,407 sq mi) in area.
Going by land mass, Vancouver Island is actually pretty small compared to Victoria Island, which is the eighth largest island in the world!
Size of Victoria Island
Looking at the Wikipedia entry for Victoria Island, this remote northern island is so large it straddles 2 provinces with the western third belonging to Nunavut, and the remainder belonging to the Northwest Territories.
At 217,291 km2 (83,897 sq mi) in area, Victoria Island is Canada's second largest island. It is nearly double the size of Newfoundland (111,390 km2 [43,010 sq mi]), and is slightly larger than the island of Great Britain (209,331 km2 [80,823 sq mi])
In fact you could fit 6 full size copies of Vancouver Island inside the area that Victoria Island occupies.
Moving to Victoria/Vancouver Island
If you are thinking of moving to the island, especially Victoria, you are in the right place! This website is packed with information on Victoria and the surrounding municipalities.
If you are looking for regional information for Victoria that we are missing please feel free to contact us and let us know, we are constantly adding more local information and would appreciate your feedback.