Geographically sprawling but thinly populated, the District of Metchosin (inc. 1984) boasts a gorgeous landscape including rocky highlands, rolling farmlands, and picturesque oceanfront. Bounded by Colwood, Langford, Sooke and the Juan de Fuca electoral district, Metchosin is central among the West Shore communities of Greater Victoria.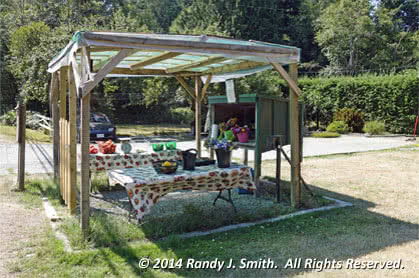 Archaeological evidence suggests a thriving population of First Nations people have lived here for thousands of years. The Spanish were the first Europeans to land in Metchosin at Pedder Bay, followed closely by Captain George Vancouver on his survey of the coastline in 1792.
As Victoria developed, it led more people to the area, and during the 1850's several farms were established, the rolling land was discovered to be quite productive, and farmers grazed their cattle and sheep on the uplands. Access to Victoria was only possible on a narrow track and therefore most supplies were delivered by boat.
In 1883 the federal government constructed a quarantine station at Albert Head for inspection and control of communicable diseases of immigrants. The site was soon relocated to William Head as it proved a poor choice, having insufficient water, a lack of accomodations for healthy passengers, as well as being too accessible by land.
Now a pastoral rural community, Metchosin's winding roads crisscross the municipality past secluded homes, acreages and small farms. Near the intersection of Happy Valley Rd and Metchosin Rd you'll find a village that serves as the business centre for this municipality. Metchosin has a fairly stable population of around 5,000 because local government has limited urban style development by imposing a minimum one and two acre lot size bylaw.
Homes in Metchosin are mostly single family dwellings, although there has been considerable debate around the question of detached secondary suites, at this time debate continues. The neighborhoods of Metchosin are: Albert Head, Kangaroo, Metchosin South, Neild, Olympic View, Pedder Bay, Rocky Point and William Head. Policing is provided by the RCMP and there is a volunteer Fire Department to protect residents. Some neighborhoods have a community water system but many people rely on wells, and septic tanks and fields are used for waste disposal. Garbage pickup is by private contracter but the Capital Regional District does offer a blue box recycling service, see the CRD website for details.
Despite a small population (or maybe because of it), Metchosin is a supportive community and neighbours are friendly and willing to help each other out. As an example; in 1993 citizens formed the Metchosin Community Association which convinced the council to lease to them a run down building owned by the municipality for $1 a year. After months of fundraising and renovation by volunteers, the Metchosin Community House was opened and now serves as a venue for many community activities throughout the year. There are many community events that Metchosins' residents enjoy including:
Metchosin Farmers Market – Sundays, May through October at the Metchosin Municipal Grounds;
The Metchosin Sheep Dog Trials and Clinic– Since 1992 this annual event has been held in late July;
The Stinking Fish Studio Tour – A self-guided studio tour featuring the best of fine art and craft in Metchosin and East Sooke;
Metchosin Day – The biggest community event in this municipality is a fun and free day for the entire family. A 5km run/walk followed by a pancake breakfast, lots of entertainment, a pet show and old fashioned races like the three-legged race, egg and spoon race and more; hay rides, displays of horsemanship and other rural pleasures! The day is topped off by a succulent lamb and barbecue salmon dinner, and
Metchosin Halloween – Celebrations including a costume contest, haunting hall, bonfire and fireworks are coordinated by the Metchosin Volunteer Firefighter's Society and the District of Metchosin, held at the firehall October 31st.
Belonging to the West Shore Parks and Recreation Society, residents of Metchosin have access to many sporting facilities like the Juan de Fuca Recreation Centre, Bear Mountain Arena and Centennial Centre. There are equestrian clubs and bridle trails for the many horse owners in Metchosin, as well as two golf courses within the municipality, and many others nearby. Metchosin is rich in regional parks and trails offering a variety of outdoor experiences, they include:
Witty's Lagoon Regional Park – Within its 56 hectares lies a surprising variety of habitats, there are Douglas Fir forests through which Bilston Creek runs, tumbling towards Sitting Lady Falls which spills into the Lagoon. The beach trail skirts a salt marsh lined with Garry Oak and Arbutus trees and a lovely sandy beach on a shallow bay perfect for swimming when the sun has warmed the incoming tide. This park is a favorite of local birdwatchers as it's a natural resting spot for migrating birds before they attempt to cross the Strait of Juan de Fuca. The Nature Information Centre contains displays explaining the natural and cultural history of Witty's Lagoon, and interpretive programs are offered throughout the year;
Devonian Regional Park – This small wildlife sanctuary is tucked between farms and features mixed woodlands and a winding creek, leading to Sherwood Pond, where you will find migratory birds resting up along their journey. Forested trails lead to a stony beach at Parry Bay, and tides permitting, you can hike three kilometres eastwards down the beach to Witty's Lagoon Regional Park;
Albert Head Lagoon Regional Park – This small lagoon is protected as a wildlife sanctuary for the many species of migrating birds that stop here. There is an easy trail to the beach and a picnic area, and
Matheson Lake Regional Park – 156.97 hectares providing hiking trails swimming and fishing. The lake is stocked with rainbow trout, and the sandy beach and picnic area is the perfect spot for a dip on a hot summer day. The Galloping Goose Trail passes through the park on its way to Sooke and nearby Roche Cove Regional Park.
People who desire to live the country life and still have easy access to big city amenities would enjoy living in Metchosin. Victoria is a quick commute and the business centres of Langford are even closer. If you need to get away the Victoria International Airport and BC Ferries are not far, but living here, you will probably not feel the
urge to escape too often – Metchosin is an escape from the hustle and bustle of urban life!