The City of Langford is one of Victoria's 13 municipalities, home to roughly 46,000 people. It's also the commercial hub of the West Shore, which is made up of several other municipalities. The city is booming, and people are moving there in droves. Housing is being built with great pace, there's plenty of work, and the opportunities for outdoor recreation are some of the best the South Island has to offer.
In this blog post, we'll look at the location of Langford, and we'll also break down the history of Langford, what there is to do, and what's coming for the city.
Location of Langford
Langford is located in Victoria, British Columbia, on the southern tip of Vancouver Island. The tip of the island dips below the land border that connects the BC mainland with the United States (also known as the 49th parallel). Being located on an island, residents rely heavily on ferries to reach other nearby islands, the mainland with larger cities like Vancouver, and even to the US where you'll find cities like Seattle and Port Angeles.
The municipality of Langford shares a border with each of the other three Westshore municipalities. To the north is the Highlands, a sparsely populated and heavily forested area. Langford's southern and western borders are shared with Metchosin, a coastal municipality with plenty of farmland. Across the south-eastern border is Colwood, home to Royal Roads University and several historic sites. Langford also shares a border with View Royal, a small coastal community with plenty of park space and beaches.
Langford is home to many neighbourhoods – some lively and vibrant, and others surrounded peacefully by nature. Langford Lake is home to Starlight Stadium, home to Pacific FC soccer club, and Westhills, a residential community constructed using BUILT GREEN® standards. Bear Mountain is well known for their golf club and resort. Goldstream is home to the beautiful Goldstream Park and campgrounds. The list goes on…
The Land
Photo credit to Victoria Trails.
Like the majority of the Westshore communities, Langford is fairly close to sea level, with no more than a couple hundred meters in elevation. The main commercial zones reach roughly 100 meters. However, by heading west a short distance out of the municipality, you'll find a mountainous region that stretches higher than 500 meters in many areas.
Langford is home to four main lakes. Thetis Lake is likely the busiest lake on any given day, packed with swimmers, runners and dog-walkers. Langford Lake is the largest, located west of the commercial center. Located just south is the small Glen Lake. Then across the highway to the north is Florence Lake. The ocean is also nearby. Within minutes, Langford residents can drive to the ocean in nearby Colwood or View Royal.
Being a temperate rainforest, Langford is home to a broad range of plant and animal life. Deer and raccoons are plentiful, so keep your eyes up when on the roads! Although less common to encounter, you might spot a bear or cougar roaming the nearby forests. Old growth forests of coastal Douglas fir, western red cedar, arbutus and Garry oak used to populate most of what is Langford today. Unfortunately, due to extensive development and urbanization, only about 5% percent of these ecosystems remain in their natural state.
The Climate
The climate in Langford is typical for the South Island region of Vancouver Island. This part of the country is known for its famously mild climate – one of the reasons why the Island is such a desirable place to live.
November to February are the coldest months. Winters are long, but they aren't too cold, with temperatures very rarely dipping below -3° and highs of around 8°. That means snow is minimal, with an average of about 5-6cm falling during the coldest months. But you should be prepared for a good amount of rain. More than 12cm of rain per month during the coldest months is totally normal.
June through August are the summer months in Langford, and even September is normally quite pleasant. Temperatures rarely heat up past the mid 20s, and the lows rarely dip below 12°. The good news is that rain is pretty rare during the summer months.
History of Langford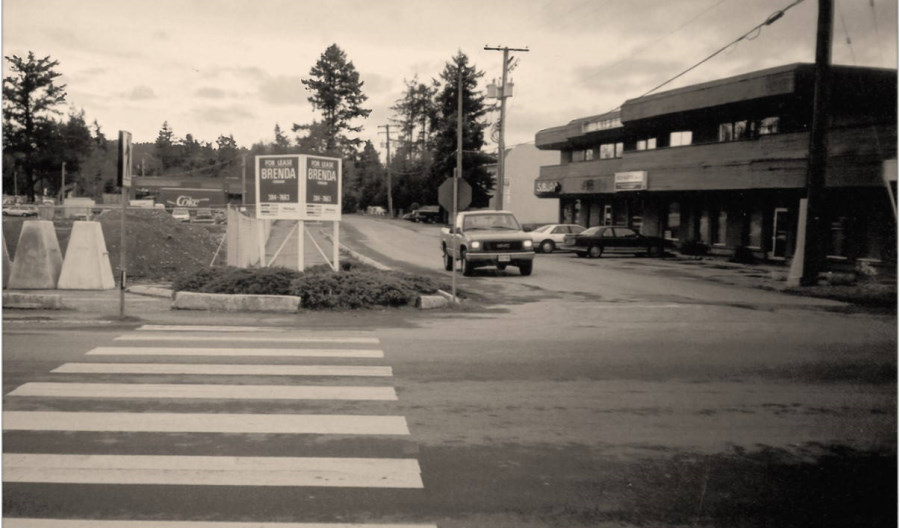 Photo credit to the Goldstream Gazette.
Langford became incorporated as a city on December 8th, 1992, but the earlies history of European settlement dates back to 1851. At that time, it was Captain Edward Langford who established one of the four Victoria farms for the Hudson's Bay Company. In the decades that followed, Victoria-era residents flocked to the area to socialize and relax around Langford Lake, among other spots.
While the area has always been naturally beautiful, the city has not been. Compared to what it's become today, Langford was not a desirable place to live in the 90s. In most areas of the city, there were no streetlights, sidewalks or even sewers. And the jobs were hard to come by, which meant many people evacuated east closer to Victoria as soon as they could.
As detailed in the Goldstream Gazette, the long-time mayor Stew Young claimed the first major win in 1994 when he struck a deal to bring in Costco, and the company ended up paying for many of the sewers in the area. From there, the mayor hasn't looked back. Langford has prided itself on slashing red tape for businesses and developers, which has spurred impressive growth.
Things to Do in Langford
Langford is well known for its many parks and accessibility to nature. There are countless hiking, biking and walking trails throughout the municipality, in areas around Langford Lake, Mill Hill Park, Mount Wells, Mount Finlayson and nearby Thetis Lake.
There's also several mini-destinations within Langford that attract tourists and locals, such as WildPlay Adventure Park, Hatley Castle, Malahat Skywalk, and Fort Rod Hill. Sports fans can also frequent the new Starlight Stadium, which is a hub for Canadian Premier League soccer, Rugby Canada, and Westshore Rebels junior football.
For a comprehensive list of fun things to do in Langford, check out our blog post: 13 Fun Things to Do in Langford.
Future of Langford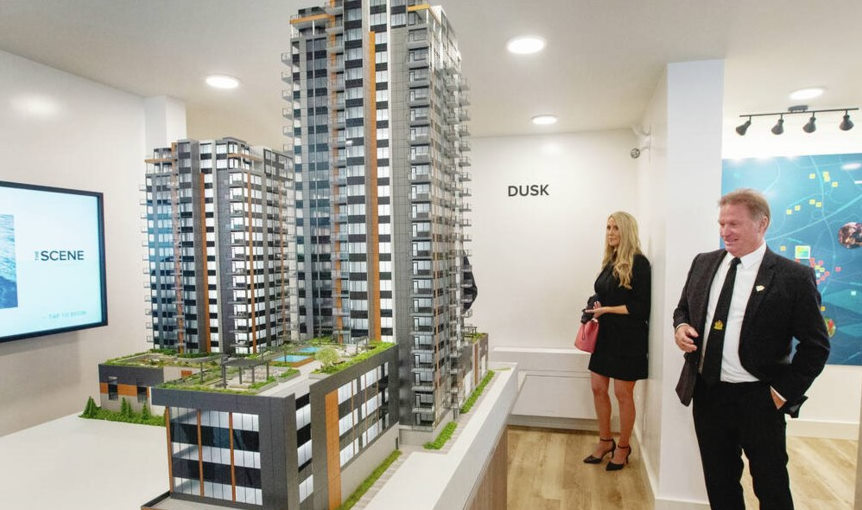 Photo credit to the Times Colonist.
The population of Langford grew 31% in the past 5 years, and it isn't showing any signs of slowing down. In fact, quite the opposite. Langford has some big projects in the works, and will likely retain their fastest-growing city status for a while to come.
The city continues to fast track development in the downtown core. Last year, plans for 24 and 22 story residential buildings were approved, and a proposal for 25 and 29 story buildings is currently under review. The city is geared to add a lot of housing. But it's also working to make that housing more affordable for families. The Attainable Housing Program limits participating residences to a $450,000 maximum price, for which the City will contribute up to 75% of a 5% down payment on behalf of eligible purchasers. In addition, Langford's Affordable Housing Program has helped low-income families move into the city's many new housing developments.
With new housing comes new schools, which are also in the works in Langford. Brand new elementary and middle schools are opening this Fall, and the government has promised another new secondary school somewhere near Costco.
While rapid development has raised environmental concerns over the years, the city is dedicated to sustainability going forwards. In their Official Community Plan (OCP), Langford has released several sustainability goals aimed at reducing emissions, maximizing the ecological value of natural areas, ensuring the availability of healthy recreation opportunities, re-use of water and other resources, and more. They've also set out specific climate action targets for emission reduction. These include having a transportation system that sees 42% of all trips made without cars by 2038, 10% less per-capita emissions by 2030, and all city-owned vehicles converted to electric by 2027.
If you're considering moving to Langford, learn more about the municipality on our website: Living in Victoria.