The western region of Greater Victoria, BC known as the Westshore is growing quickly. New neighbourhoods are sprouting up left and right, and one of them worth exploring is called Westhills. See below for more information, and make sure to watch the Westhills video below as well!
This is a prime location on Vancouver Island with easy access to downtown Victoria and communities north of the Malahat Hwy.  The vision for this community is one that leads the charge in green & sustainable living and the community plan has many housing options and perks too.
Sustainability A Founding Principle
Westhills has earned a number of awards in the last 5 years, including awards for environmental achievement and energy efficiency! The community encompasses over 500 acres, and is surrounded by gorgeous island mountains. Westhills is based on the founding principles of sustainability, affordability, design excellence, & quality construction. They have "small footprint" homes, as well as many other housing options.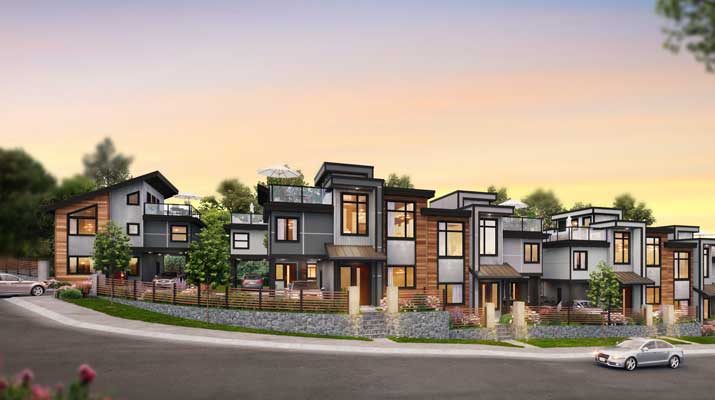 Housing Options In Westhills
The community plan for Westhills is to create a mix of small footprint homes, condos, townhouses, traditional single family homes, executive homes, and more!  Westhills is a model community based on the founding principles of sustainability, affordability, design excellence and quality construction – aiming to create a vibrant neighborhood offering a variety of housing options. See the image below to see a bird's eye view of the community plan!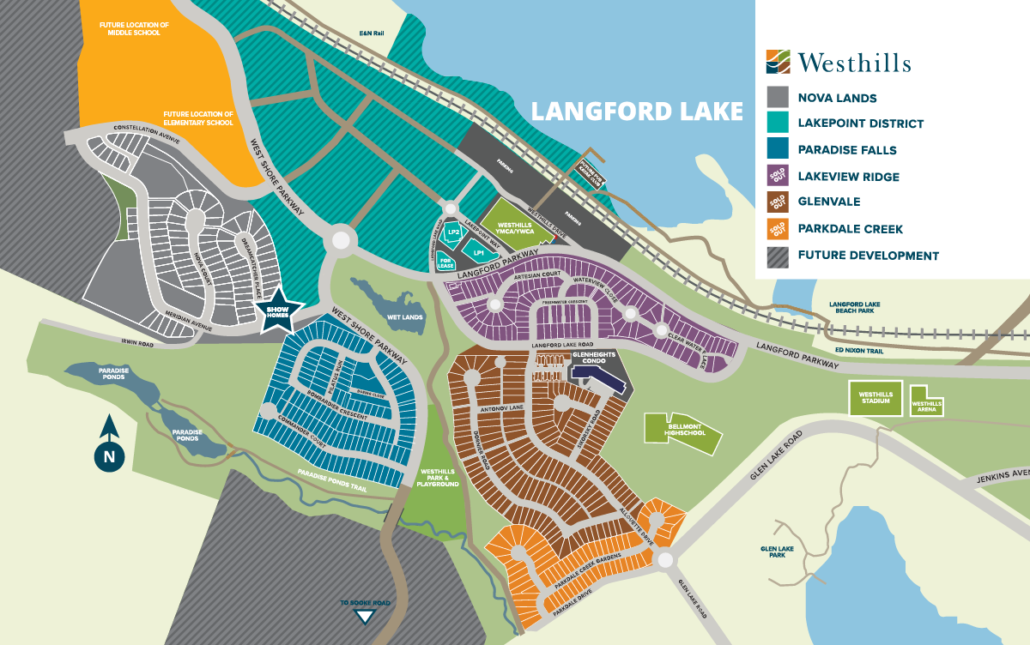 Westhills Community Perks
On top of the diverse residential housing options in the Westhills plan are a variety of community perks that have been built or are in the future plans! Included in this list are; a Village Centre with many different stores/services/restaurants/pubs/etc., schools (elementary, middle, and high school), playgrounds, libraries, both indoor and outdoor rec facilities, a YMCA-YWCA, an arena, a stadium, daycare facilities, and more! On top of all that are the park-lands that surround the area as well, including; Langford Lake, Goldstream Park, the Galloping Goose trail, the E & N trail, and more. There will be something for everyone!
[av_gallery ids='7452,7451,7450,7449′ style='thumbnails' preview_size='portfolio' crop_big_preview_thumbnail='avia-gallery-big-crop-thumb' thumb_size='portfolio' columns='4′ imagelink='aviaopeninbrowser aviablank noLightbox' lazyload='avia_lazyload' av_uid='av-2gqe0b' admin_preview_bg="]
The Bottom Line on Westhills
If you're thinking about moving somewhere new in Greater Victoria or Vancouver Island, having the Westhills community on your list is a definite must. Not only is it a leader in sustainable living, but the overall community plan is full of perks, and there are plenty of housing options to fit a variety of budgets. We can't forget about the gorgeous island mountain views either! Contact a realtor at McLean Real Estate Group to discuss Westhills now.
Video & Photo Credits: WesthillsBC.com