Langford is one of the 13 municipalities that make up Greater Victoria, located on Southern Vancouver Island. Incorporated not long ago in 1992, Langford has become one of the fastest growing communities in the entire province, growing by 31% from 2016 to 2021.
Known for its extensive network of parks, trails, and mountains, Langford makes a great home and destination for outdoor lovers and families.
Here's our guide of 12 fun things to do in Langford:
1. Watch Canada's Finest, Pacific F.C.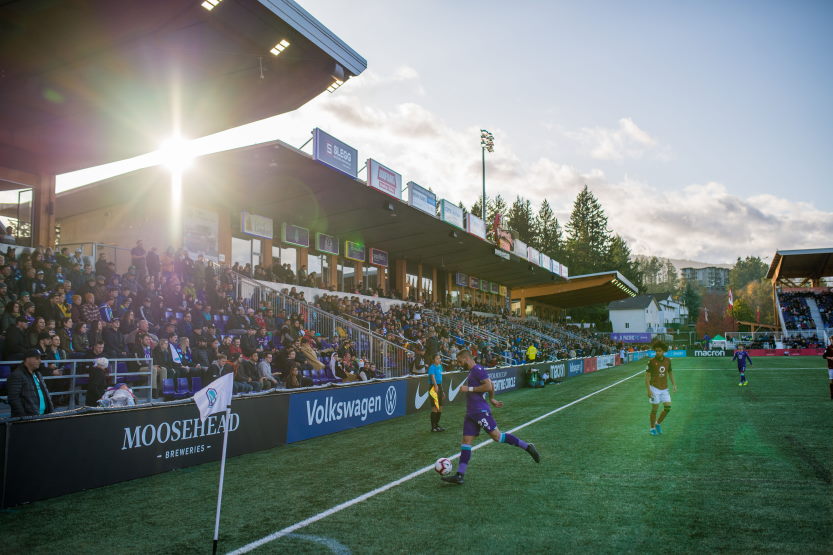 The Pacific Football Club is a professional soccer team that competes in the Canadian Premier League, playing out of 6000-seat Starlight Stadium in Langford. The 2021 champions are having a strong 2022 season as well, currently sitting atop the Canadian Premier League standings. Bring your entire family out to Starlight Stadium for a fun night watching Canada's best – and bundle up!
Photo credit to Pacific FC.
2. Climb Mount Finlayson

The very popular Mount Finlayson is located inside Goldstream Provincial Park, known for its annual fall salmon runs, bald eagles, and campgrounds. The climb is a tough one with quite a few steep sections, but the stunning view of the ocean and city is well worth it. Mount Finlayson is a popular climb for locals (and their dogs), so if you're going on the weekend, parking could be tricky!
Photo credit to Victoria Trails.
3. Spend an Evening at Westshore Motorsports Park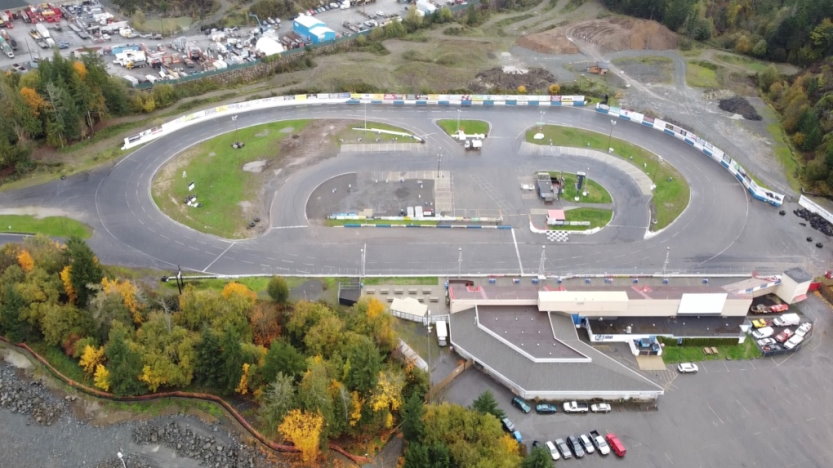 If you're looking for some family fun, head down to the Westshore Motorsports Park (formerly Western Speedway) for an evening at the racetrack. The Speedway hosts multiple events per week, featuring sprint cars, stock cars, demolition trucks and cars, hornets, mini stock, mini figure 8's, and other types of cars. Fresh, Ali Baba Pizza is available for sale, and kids under 6 enter for free!
Photo credit to City News Vancouver Island.
4. Challenge Yourself at BoulderHouse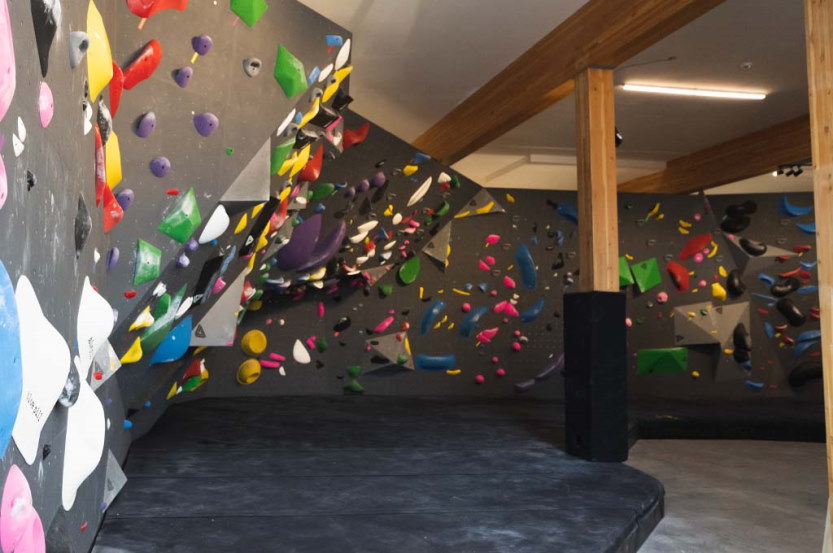 If you're looking for a fun workout, be sure to checkout the brand new BoulderHouse climbing gym located right in downtown Langford. The two-story facility features a 150-foot main wall, a dedicated training area, and a 6000 square foot kids' section – so feel free to bring your kids!
Reserve your spot at BoulderHouse today.
Photo credit to BoulderHouse.
5. Have Some Fun at Langford Lanes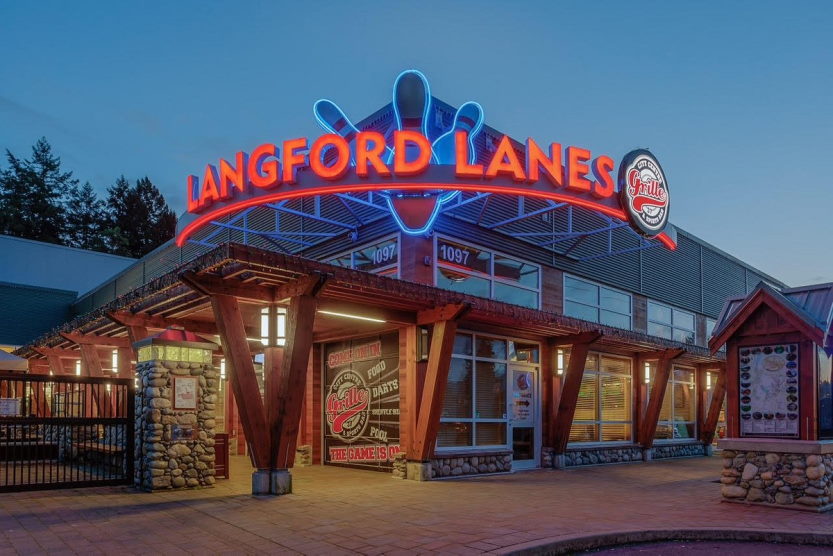 Located right downtown in Langford's City Centre Park, Langford Lanes is the only 10-pin bowling alley in the entire Greater Victoria Area. Open daily, Langford Lanes offers bowlers of all abilities the option to use bumpers, lighter balls, and ramps. Plus, if you get hungry, the City Centre Grille & Sports Bar is attached under the same roof!
Schedule your time at Langford Lanes.
Photo credit to TripAdvisor.
6. Tour the Iconic Hatley Castle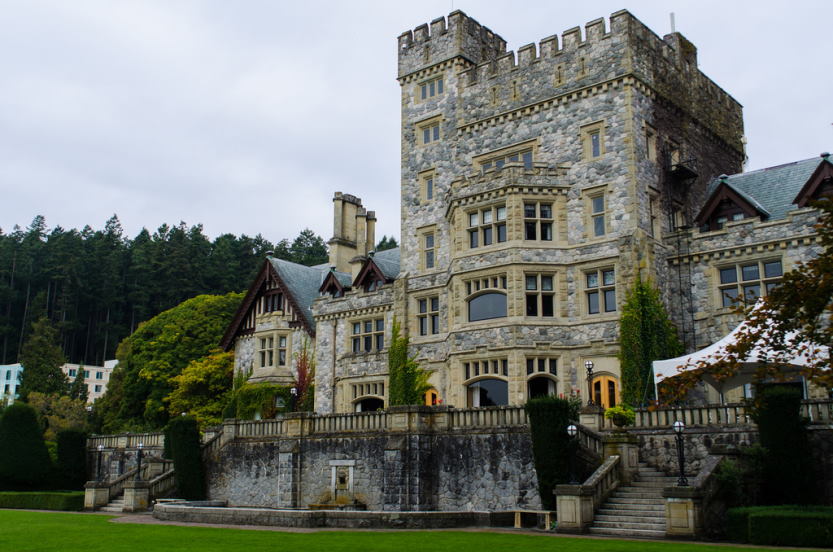 Located in neighbouring Colwood, Hatley Castle is a must see for anyone – local or tourist. The castle has served as a shooting location for various films and TV series such as Deadpool, Descendants, Arrow, and the X-Men movies, so Hatley attracts quite a crowd. Built in 1908, the National Historic Site features a large mansion and sprawling estate, and is used frequently by the public Royal Roads University.
Photo credit to HatleyCastle.com.
7. Visit Poncho's Café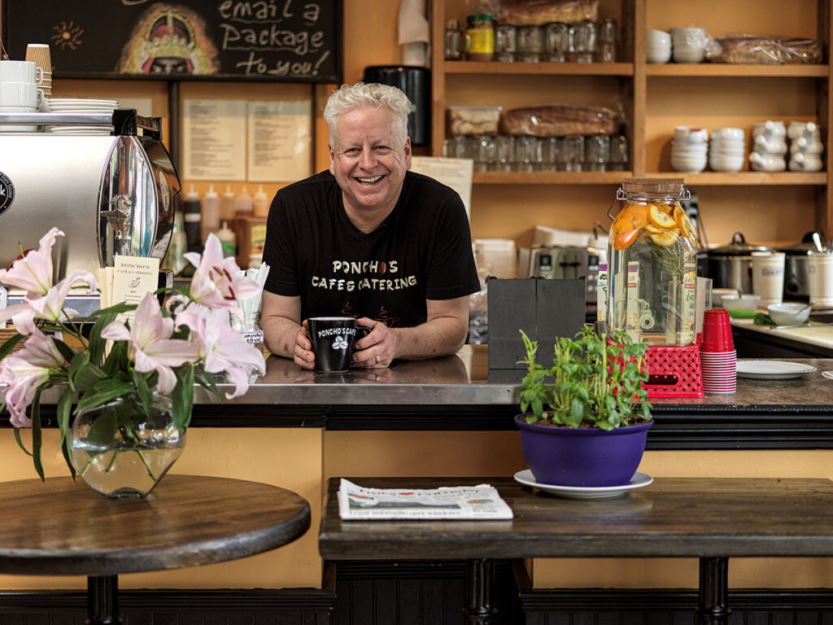 Poncho's is Langford's finest local café. Located right on Goldstream near the round-about, Poncho's features a cozy interior, patio seating, various vegetarian entrees, and of course – great coffee from a local roastery, Stick in the Mud.
Photo credit to I Am Langford.
8. Catch Some Air at the Jordie Lunn Bike Park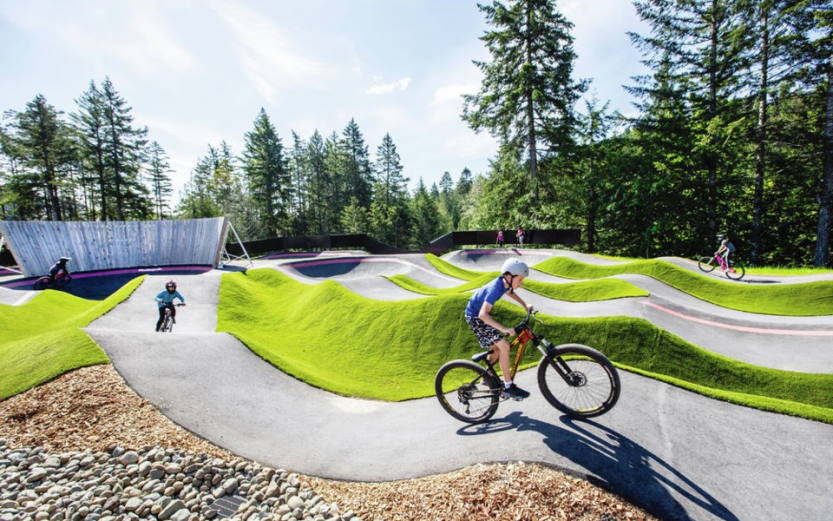 The Jordie Lunn Bike Park is a recreational cycling space that's free to the public. The park is open year-round, and features dirt trails, jump tracks, and more for every level of skill. The park was built in memorial of the former highest ranked North American downhill racer and beloved community member who tragically passed away in 2019.
Photo credit to The Times Colonist.
9. Enjoy Live Music in the Park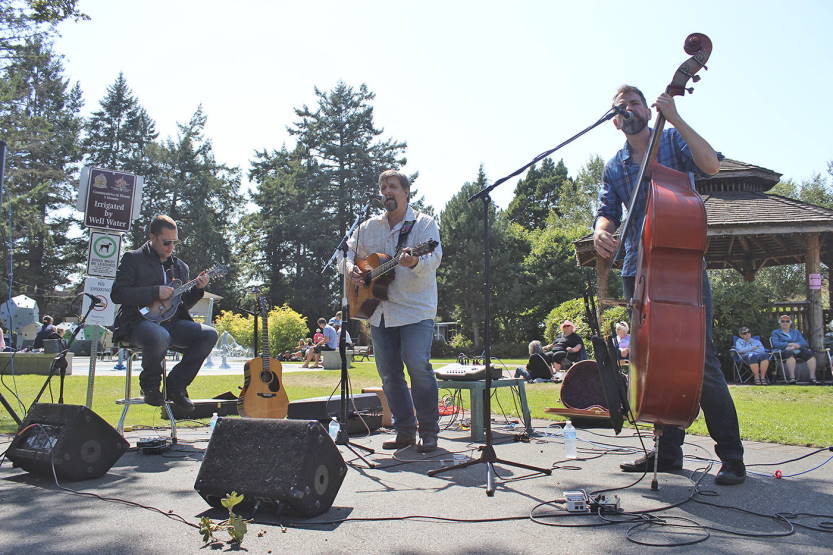 During the warm summer months of July and August, head on over to Veteran's Memorial Park to enjoy Music in the Park, from 2pm-4pm. It's totally free and family friendly, and features local bands and musicians from various genres. The park also has a playground and basketball court, so there'll be something for the whole family to do while live music plays in the background. Don't forget something to sit on!
Photo credit to Victoria News.
10. Pamper Yourself at the Amatista Spa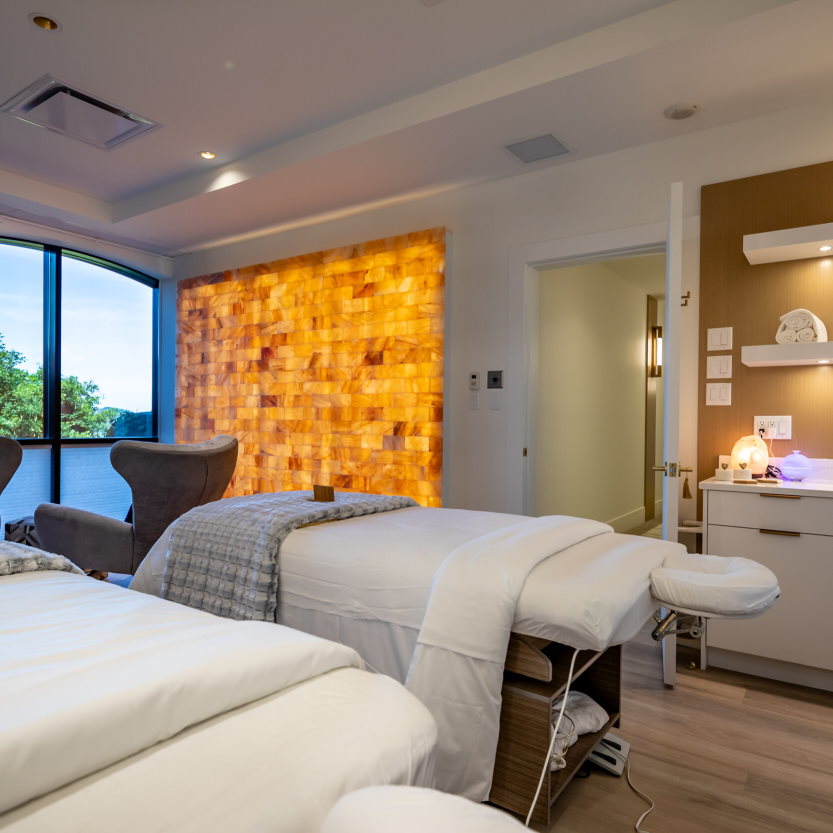 The Amatista Spa is a part of the luxurious Bear Mountain golf and tennis resort community, located at the top of Bear Mountain. Their team of talented aestheticians and massage therapists will pamper you and let you truly relax as you enjoy a massage, facial, pedicure, body wrap, or one of their many other options.
Check out Amatista's spa treatment options.
Photo credit to Amatista Spa.
11. Stop by 328 Taphouse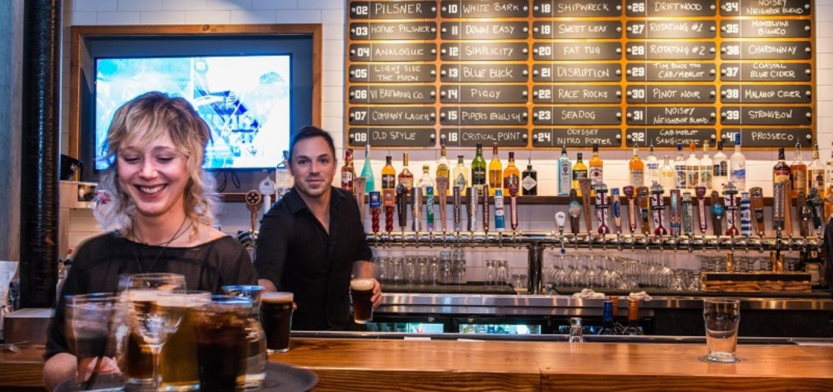 328 Taphouse is the place to go in Langford if you're looking for craft beer. With over 40 craft beer taps from the South Island and Pacific Northwest, as well as a 900-degree stone-fired pizza oven, this is the perfect place to stop for a refreshment. Plus, they have a patio for those warmer months, and a daily happy hour from 2-5pm.
Check out 328 Taphouse's food and happy hour menu.
Photo credit to Tourism Victoria.
12. Go for a Stroll and Swim at Thetis Lake

Thetis Lake is one of the most popular regional parks in the entire Greater Victoria Area. All year round, the over 40km of recreational trails are used by locals for running and dog walking. In the summer months, the lake and beach area will fill up with swimmers, paddlers, and sun-tanners. If you and your family want to use one of the coveted picnic bench spots, make sure you arrive early!
Photo credit to Victoria Trails.
13. Take in the Breathtaking Views at the Malahat Skywalk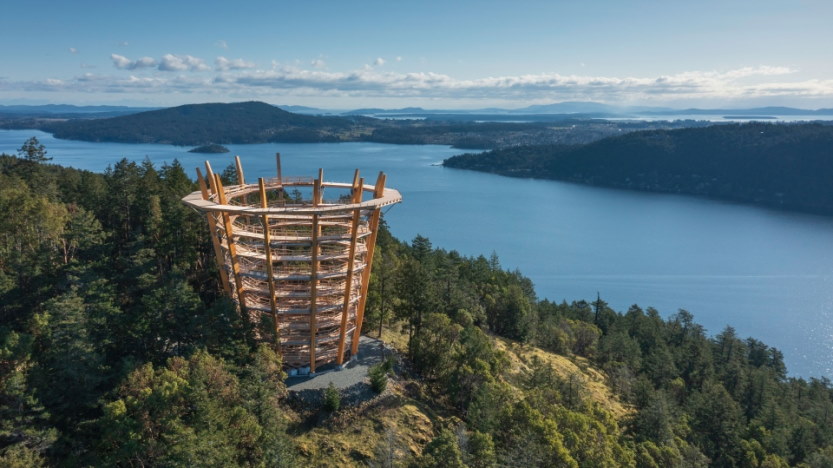 The Malahat Skywalk is a 20-minute drive from the Langford City Center, but well worth the short trip. Enjoy a 'natural high', climbing 250 meters above sea level through a beautiful arbutus forest and up a gentle spiral ramp. The lookout at the top is incredible, with views of Finlayson Arm, the Coast Mountains, and the Saanich Peninsula. If you want to get back down in a hurry, take the slide!
Photo credit to CTV News Vancouver Island.